Where to Stay in Chiang Mai: The Four Best Neighborhoods for Visitors
Fortunately, when it comes to deciding where to stay in Chiang Mai, you've got plenty of options. The city offers a variety of properties that cater to all preferences and budgets from total splurges like the Anantara Chiang Mai Resort to gorgeous boutique hotels and a bunch of great hotels for budget travelers. Whether you're a cost-conscious traveler or a luxury seeker, stick around for some excellent suggestions!
This page contains affiliate links. See our disclosure policy for more details.
In this article, we'll help you navigate the best places to stay in Chiang Mai. Regardless of whether you're seeking a high-end resort or funky boutique hotel or a budget-friendly hostel, like in Golidlocks and the Three Bears you will find your "just right' in Chiang Mai.
How to Choose the best location in Chiang Mai for your visit
When deciding where to stay in Chiang Mai, the most important thing to consider is what type of holiday you are planning. There are Chiang Mai neighborhoods to suit all – you just need to pick the right one.
Do you want to be in a convenient location? Where you are within walking distance of key local attractions, temples, and fun nightlife?
Are you on a budget and would be happy to stay outside the centre and save a few dollars?
Are you looking for an escape from the hustle and bustle of Bangkok?
Is being surrounded by cafes and restaurants important to you?
Do you want to be immersed in the middle of Northern Thailand's beautiful mountains?
Let's look at some of these in detail.
Location and proximity to attractions
If you have limited time and want to visit as many Chiang Mai temples and night markets as you can in just a couple of days then staying inside the old town walls is my preference. This way you can walk to most of the main sites and are surrounded by food for the evening.
If you are planning on renting a car or bike there is less importance on location but make sure your hotel or guesthouse has free parking. It can be hard to find off-street parking.
Local Culture
If you like being in more local settings and watching daily life then one of the areas just outside the gates gives you a bit more of a chance to enjoy the local lifestyle and a bonus is that it is usually a bit cheaper. You can also still explore on foot but you may start and end your day with a 10-minute walk instead of everything being on your doorstep.
Food
You will never go hungry in Thailand but the neighbourhood you choose can make a difference in how far you have to go to find the type of food you want to enjoy.
If you like to be able to walk to night food markets and eat local street food its a good idea to stay by one of the city's four gates or in the old town.
If you want to sample some of the city's best restaurants – There are 56 Chiang Mai restaurants listed in the local Michelin Guide they are spread across the city but there are many in the old town and riverside area.
If you are someone who has not quite trained your tastebuds to enjoy Thai cuisine then staying in Ninmaan or near the Maya centre will have you in proximity to plenty of western food options,
Ambiance
Finally, if you want a quieter visit then it's hard to go past the riverside hotels. You will pay a bit more for transport and food is a little more expensive but you
Another unique experience is staying in one of the towns in the hills outside Chian Mai city. You will find a range of budget guesthouses, private rooms in a homestay
Our Four top neighbourhoods for short visits to Chiang Mai
We think the top four areas for travellers visiting Chiang Mai are:
Chiang Mai's old city – Old Chiang Mai is perfect for a short stay
Nimman – great for digital nomads, coffee lovers, and longer stays
Chiang Mai Riverside- perfect for a splurge or romantic getaway
Chiang Mai Mountainside – a great base for hiking or total relaxation
You will be comfortable in any of these locations and should choose depending on they type of holiday you are looking for.

Left booking your Chiang Mai hotel to the last minute?
For a short stay in Chiang Mai choose a hotel inside the Old City or by one of the
Gates of the historic centre
Our Top Chiang Mai Hotels
How to Get Around Chiang Mai
Before we jump into the best places to stay in Chiang Mai, Let's discuss how to get around when exploring Chiang Mai. Once you have a handle on how to get around you will be better placed to make decisions about the best location for your trip.
Chiang Mai's transportation is cheap and convenient. There's no shortage of modes of transportation. So, let's go over your options!
Rideshare Services
Grab – Grab is Asia's equivalent of Uber or Lyft, and they are the biggest rideshare (and food delivery) service in Chiang Mai.
Bolt – Bolt is an Estonian rideshare company that also exists in Thailand. Although their pricing is cheaper than Grab, they have a limited supply of drivers.
inDrive (Formerly inDriver) – Originally based in Russia, this global rideshare company is the second largest rideshare worldwide by downloads. Unlike other services, you request a ride and name your price. The drivers can then accept or counteroffer.
Motorbike Rental
Although you can easily request a motorbike taxi through one of the above services, it's cheap and convenient to rent your own motorbike in Chiang Mai, assuming you're a confident driver.
Tuk Tuk
Want a distinctive form of transportation to get around Chiang Mai? You can always take a Tuk Tuk for a unique experience. The downside is that they are pricey you have to negotiate a price with the driver 100-200 Baht should get you from most spots in the old town to say night markets.
Songthaew (Red Truck)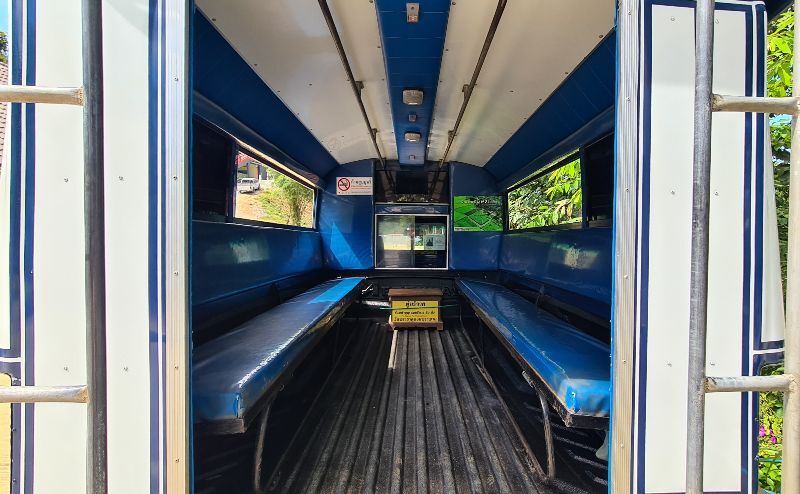 The average cost of a ride is about 30 baht per person, depending on the distance.
Chiang Mai Old City (Old Town) and Tha Phae Gate
Chiang Mai's old city is where most of the temples and historic sites are located. If you're looking to do a good deal of exploring on foot, this is a great location to base yourself.
The old town is within walking distance of the Chiang Mai night bazaar area and some of Chiang Mai's best restaurants and delicious street food. If you find yourself here on the weekend, be sure to visit the Sunday Walking Street, it's one of the best in the country.
Why Should You Stay in the Old City?
If you're a budget traveler looking to explore all the attractions or it's your first time in Chiang Mai, the old city is for you. It gives a feel for the history and culture of Thailand and allows you to indulge in both international and Thai cuisine, daily massages, nightlife, and cheap street food.
If you're interested in Chiang Mai's historic temples, then a visit to Wat Chedi Luang, Wat Phra Singh, or Wat Chiang Man, all in one central location inside the Old city walls is an easy morning out.
What Should You Consider?
Staying in the Old City is a popular choice and has lots of benefits, however, keep in mind that it also happens to be the busiest part of the city with the most noise and the most tourists.
The Sunday night walking street for example can bring lots of people and noise to the main street within earshot of some hotels. If you are travelling with a car and staying here make sure they offer off-street parking.
The upside is there is lots to do, easy access to transportation, and you'll be more immersed in the local culture compared to other areas of Chiang Mai.
Our recommended hotels in the Old City
While staying inside the old town walls is wonderful the area surrounding the Tha Pae Gate on the eastern side of the city is a perfect balance of cost vs. convenience so don't rule it out!
You are right within walking distance of the best markets in Chiang Mai including the Chiang Mai night bazaar, and the Sunday walking street. There are many quiet laneways offering budget hotels and boutique hotels right on the edge of the old town.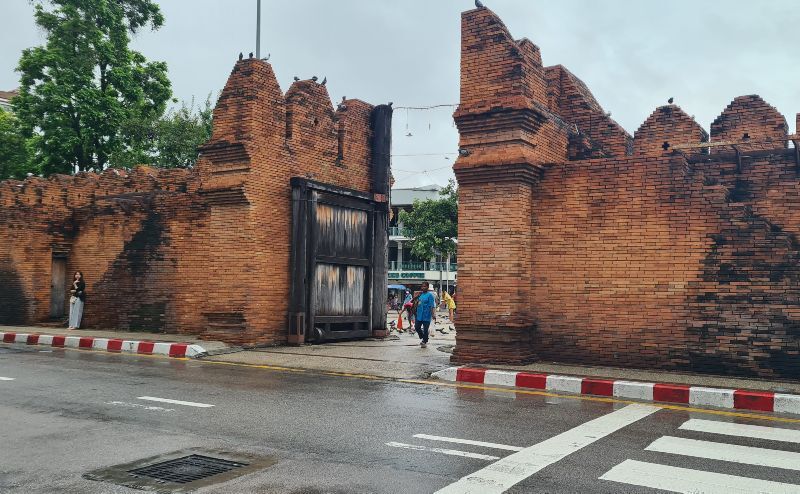 Guest Rating: 9.7/10 | Location: Old Town | View on Booking.com
It was hard to choose a favourite in the budget category as there are so many hotels under $60 but Eleven Pillar Site hotel stand out because the rooms are a bit bigger than the average budget room at almost 40sqm. They also have duplex-style rooms with 4 beds that are perfect for families. There is free wi-fi, an onsite cafe/restaurant, and a garden but no swimming pool.
Guest Rating: 8.8/10 | Location: Thae Pae Gate | View on Booking.com
On our recent five-night stay in Chiang Mai, we booked a deluxe double room with pool access at Viang Thapae Resort and loved it. The hotel is a very short walk from the Tha Phae Gate and offers spacious rooms that feature local decor.
We loved being able to open the balcony door of our pool room and take a dip in the cool water. The air conditioning was strong and silent too, which is always a bonus. Both a western and Asian-style breakfast is available.
We found an excellent laundry service right next door that was bargain too
Guest Rating: 9.4/10 | Location: Old Town | View on Booking.com
This hotel took the Instagram world by storm a few years ago and is still one of the most stunning private pool hotels we have seen. You will not find affordable rooms here but if you are looking for something memorable for a proposal or special occasion holiday this place is hard to beat.
There are at least half a dozen different types of pool suites here along with the glass pool rooms.
Guest Rating: 9.2/10 | Location: Thae Pae Gate | View on Booking.com
This hotel is in the old city centre and perhaps gets its name from the tamarind trees on the grounds. A beautifully decorated heritage property that sits right on the famous Sunday walking street and offers the perfect mix of proximity to the main attractions of Chiang Mai with and quiet oasis.
Nimmanhaemin Area (Nimman)
The Nimmanhaemin area, located on or near Nimmanhaemin road, is affectionately called "Nimman" and is where most expats, nomads, and long-term travelers opt to stay in Chiang Mai. With trendy cafes, co-working spaces and a couple of night markets targeting younger shoppers this part of town is very popular with digital nomads.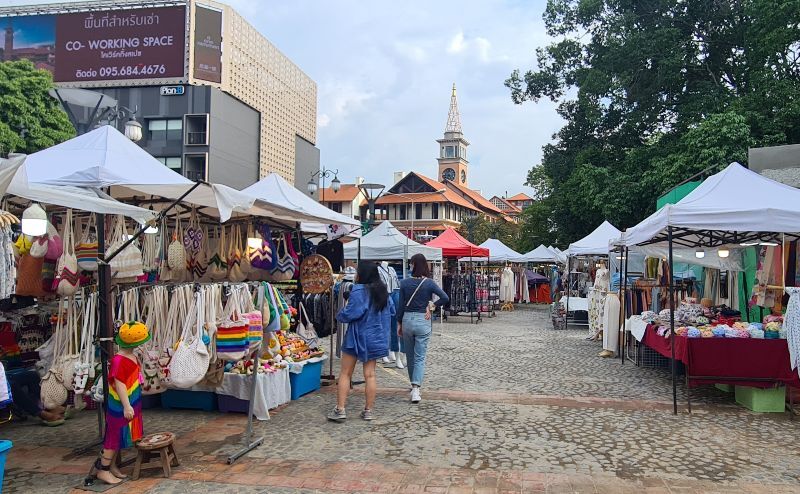 It's located close to Chiang Mai University, so you'll likely run into lots of students as you go about your day.
Although it's less touristy than the old city, there is no shortage of things to do.
As the second most popular place to stay in Chiang Mai, Nimman is somewhat of a second city centre. It's known for modern restaurants, cozy cafes, long-term condos, and luxury hotels. It's also a great nightlife spot.
Nimman is more modern than the old city and while it lacks the traditional charm of the old town it's the best place in Chiang Mai to stay if you want to enjoy chill-out afternoons and evenings at lounges and rooftop bars.
The old city is just a quick ride away as Nimman is one of the easiest places in Chiang Mai for fast and convenient transportation.
Why Should You Stay in Nimman?
Pick Nimman if you are looking for a quiet place to work during the day, lots of social activities, and top-notch restaurant and accommodation options. You also get the best of both worlds, since the old city is just a short drive away.
What Should You Consider?
Those who choose to stay in Chiang Mai's old city should understand that you're trading convenience for a bit of a disconnect from Thailand's culture. Sure, it still feels like Thailand, but it pales in comparison to the authentic feel of the old city.
Although you also have easy access to street food and markets, the cost is typically higher in this part of the city. Rooms here may cost slightly more here too.
The upside is that it's less busy and quieter than the old city, while easier to meet people and make connections for those who stay in Chiang Mai for at least a month.
Our Recommended Nimman HOTELS
Guest Rating: 7.9/10 | Location: Nimman | View on Booking.com
The Victoria Nimman Hotel will not win any design awards but its friendly staff and great location make it a good choice for budget travellers. The biggest complaint guests seem to have is slow wifi so this might be worth checking out if you have not bought a local sim for your data needs.
Guest Rating: 8.3/10 | Location: Nimman | View on Booking.com
We recently stayed in this boutique hotel for one night before heading to the Chiang Mai Airport for our flight home after two weeks of exploring northern Thailand.
The gorgeous rooms are decorated with unique artworks and our room on the 7th floor featured a great sunset view.
They offer free parking and are close to the boutique shops of Nimman One. The breakfast buffet had a good range of choices and there is free coffee and beverages in the dining room all day.
There is a rooftop terrace with a swimming pool and a fitness centre if you like to get some training in on the road.
Guest Rating: 8.7/10 | Location: Nimman | View on Booking.com
This all-suite hotel on only 3km from the city centre offers a rooftop infinity swimming pool, free wi-fi, and free parking. There are deluxe rooms and large suites with some of the nicest hotel bathrooms I have seen in a long time with some rooms offering an outdoor spa bath.
Chiang Mai Riverside (Mae Ping River)
Choosing Chiang Mai Riverside can be an excellent choice for the right type of traveler. Why? For starters, it's more peaceful than other parts of the city.
Aside from that, there are plenty of riverside restaurants, bars, and cafes to choose from. This is great if you want a serene place to relax without all the busyness you encounter in other parts of the city.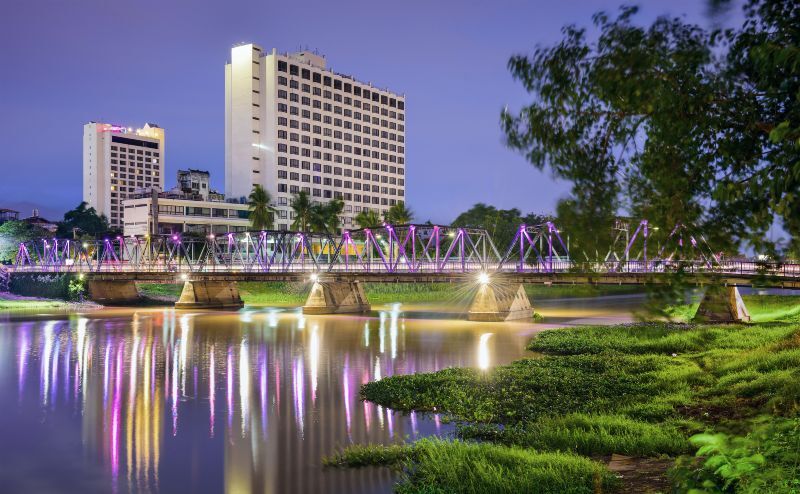 The Riverside neighborhood is located in Wat Ket which is opposite the Mae Ping River and just opposite the Chiang Mai night bazaar.
Although it really depends on the type of experience you want to have, this area of Chiang Mai is great for families and travelers in their mid-fifties or above.
Why Should You Stay by the Riverside?
Staying in the Riverside neighborhood is peaceful and allows you to avoid being in the hustle and bustle of the old city. It's a great location for some peace without being so far off the beaten path.
The luxury hotels and guesthouses line the picturesque Ping River offer a restful change from say Bangkok or Patong Beach in Phuket.
The Wat Ket area is just about a 10-minute drive from the city centre and houses some of the best luxury hotels that Chiang Mai has to offer.
What Should You Consider?
The Wat Ket area on the river is full of luxury hotels, high-end shopping, and upscale waterside restaurants. If cost is a factor, you may find one a boutique hotel or budget guesthouse in the old city or Nimman a better choice.
Aside from that, you're also a good distance away from most of the attractions, street food, and the shopping is limited.
Choose this area if you're looking for a more relaxed Chiang Mai experience, traveling with family, or want limited social interaction.
Riverside HOtels in Chiang Mai
Guest Rating: 8.6/10 | Location: Near night bazaar | View on Booking.com
Guest Rating: 8.8/10 | Location: Tambon Watgate | View on Booking.com
137 Pillars House is a historic teak wood building that dates back to the late 1800s. The colonial style has been retained in the restoration and the hotel has a very luxurious and modern touch while maintaining its old-world elegance.
There are a number of suites to choose from including a pool suite option. Some suites have beautiful indoor/outdoor spaces and outdoor showers. The tropical gardens are stunning and the perfect place to take in their afternoon tea. There are also two dining spaces and a bar on site.
Guest Rating: 9.3/10 | Location: Mae Ping River | View on Booking.com
Guest Rating: 9.0/10 | Location: Pa Tan | View on Booking.com
This gorgeous hotel mixes art, culture, and modern design to create a very contemporary space that supports the local art scene. If you love a burst of colour in your room then this is the place for you.
The rooms are a good size of 40+ sqm and triple rooms are available, perfect for families and groups. There is a small pool that is a popular spot for guests to watch the sunset.
Guest Rating: 8.2/10 | Location: Mae Ping Riverside | View on Booking.com
Located on the riverside and only a five-minute walk to the famous Night Bazaar Anantara Chiang Mai might be for you. Its river view and lush gardens feel miles away from the busy streets.
Rooms are a perfect blend of modern architecture and traditional Thai design. Choose from spacious garden or river view rooms and suites. Every room has a terrace/balcony space adding to the feeling of luxury.
Bubbles, the rooftop champagne bar is the perfect spot for sunset drinks before you head out to a night market. You can also book a high tea or take an in-house cooking class.
This hotel is so beautiful you may want to allow an extra day just to stay in and experience it all!
If you want a little more space consider Anantara Chiang Mai Serviced Suites
Mountainside Hotels (Suthep & Chang Phueak)
The Chiang Mai mountainside area is visually stunning and peaceful and consists of a few neighborhoods, including Suthep and Chang Phueak.
Similar to the riverside area, this is suitable for families and those who want a serene environment with natural views. You could also choose the mountainside for where to stay in Chiang Mai if you want an authentic Thai experience.
It's the perfect place to get away from the bustling parts of Chiang Mai, like the old city, and experience what daily living in Thailand is like. Particularly if you choose a homestay in one of the villages.
Why Should You Stay in Chiang Mai Mountains?
If you are looking for an immersive experience in Northern Thailand these hotels outside the city limits are a fantastic option. If you plan on hiking and exploring the hill villages this is the perfect spot.
You should choose the Chiang Mai mountainside area if you are looking for a peaceful environment with an aesthetically pleasing view.
What Should You Consider?
You may find it harder to reach restaurants and there is little to no nightlife. You may like to rent a car as public transport may be harder to access
Our Recommendations for Mountainside Hotels in Chiang Mai
These three properties are all perfect for a romantic escape.
Guest Rating: 8.1/10 | Location: Ban Pong | View on Booking.com
Surrounded by stunning mountain views, this property has a large pool, beautiful gardens, and free wi-fi. The rooms are decorated in a variety of styles from traditional Thai-style villas to modern studios.
Located 9 km from Wat Phra That Doi Suthep and 12km from Chiang Mai Zoo.
Check photos and prices
Guest Rating: 8.5/10 | Location: Chang Phueak| View on Booking.com
Located on the edge of the city about 8km from the airport, what I particularly like about Merchant Villa is the 2 bedroom "family" suites. There is also a lovely pool area surrounded by garden and mountain views.
Guest Rating: 8.7/10 | Location: Mae Rim | View on Booking.com
A bit further from the city if you are looking for a relaxing escape this Onsen in Mae Rim fits this bill. A 5 star hotel you have everything you need here for a rejuvenating break. The hotel offers spa services and has an onsite bar and restaurant.
We hope this has helped you work through the difficult where to stay decision.
Now it's time to start planning your Chiang Mai itinerary. You might like to start by taking a look at the Temples in Chiang Mai that we recommend for first time visitors. Then make note of which markets are on during your visit. Try to include at least two!