Pattaya Guide 2023: Discover the best beaches And Attractions

Walking Street, beer bars and sunburn? Another beach and more bars? There's much more for visitors to Pattaya, Thailand's premium party town, than the old cliches from last century. How about fine dining, five-star hotels and family attractions? Did someone mention golf? Read on…
Pattaya: 'Fun City' or 'Gomorrah-on-Gulf?'
This article contains affiliate links. Our full disclosure policy is here.
Thailand's international visitor numbers soared Phoenix-like from their Covid-era ashes to a remarkable 10 million arrivals during 2022. Close to one million of those visitors, along with many more domestic Thai visitors, probably headed to a place that Time magazine called, "arguably the birthplace of mass tourism in modern Asia, and still its undisputed capital." That'd be Phuket? Koh Samui? No, Pattaya.
Pattaya Grows Up
"Pattaya, the Extreme City," declares the welcome arch at Jomtien Beach, the southern portal to sprawling Pattaya. It's a fair description, or brag, because Pattaya and its zones run the gauntlet from beach resort, family destination and expat retirement enclave to red light bar-world, and back again via golf mecca and much more.
In 2019 the Mastercard Global Destination Cities Index logged Pattaya as the world's 15th most visited city, with an extraordinary 9.44 million international visitors.
Located 150km southeast of Bangkok on the Gulf of Thailand — a two-hour drive — Pattaya has outgrown its post-Vietnam War era reputation for Apocalypse-Now-or-Never partying.
These days the town of around 500,000 residents (and probably double that of temporary residents) has a growing sophistication that overshadows its still-rocking nightlife.
The Fun City
For families, Pattaya's surrounding Chonburi Province has quality theme parks such as Nong Nooch Tropical Garden (the flamingo garden is fun, and full of animal sculptures — but skip the elephant show) and the Ramayana Water Park (Thailand's largest) with plenty of the adrenalin-pumping water slide thrills for kids.
Out of town at Khao Chi Chan is Buddha Mountain with a 109-metre high image laser-etched in gold onto a cliff-face. Built in 1995 to honor His Majesty King Bhumibol on the occasion of his Golden Jubilee.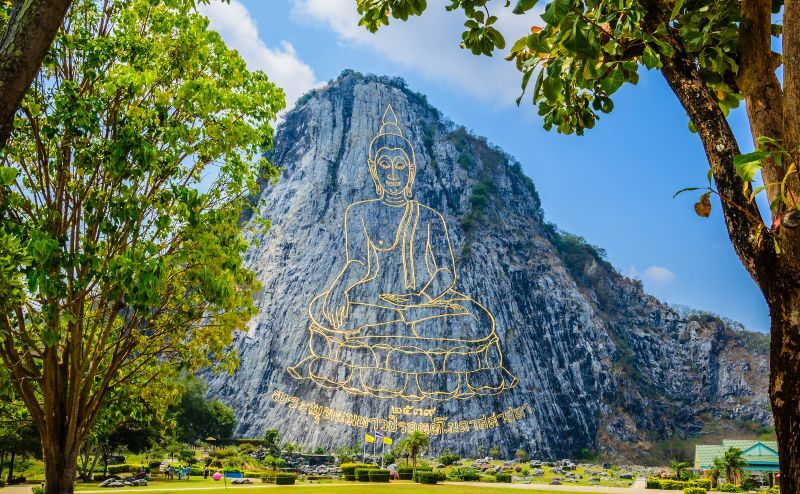 Pattaya's most spectacular attraction remains the Sanctuary of Truth at Wong Amat, just north of town. This extraordinary, all-wood, no-nails structure topped by a 105-metre spire, honours a synthesis of eastern religions and mythologies, and has been over 40 years in the making — but with something this massive and eccentric, who's counting?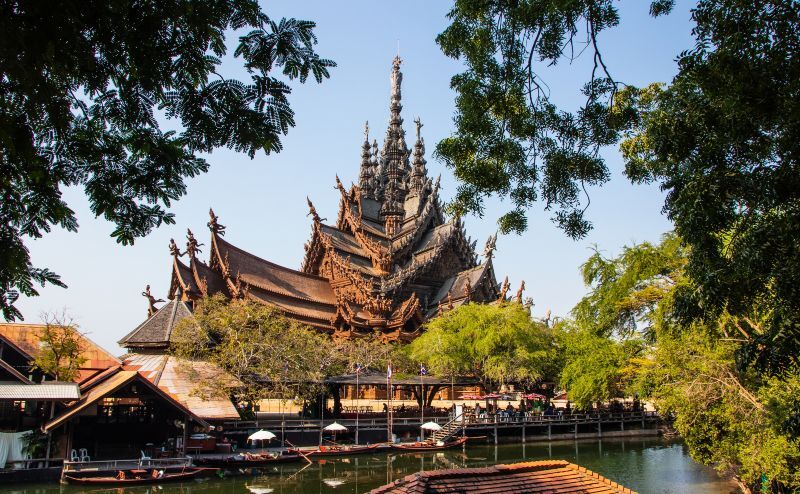 Closer to town, atop the aptly named Buddha Hill aka Pratumnak Hill at the southern end of Pattaya Beach sits a giant golden Buddha. Beside it is a superb viewpoint that overlooks the bay and its restless flotilla of ferries, jet-skis, paragliders, dinner boats, speedboats, banana boats and you-name-it-boats.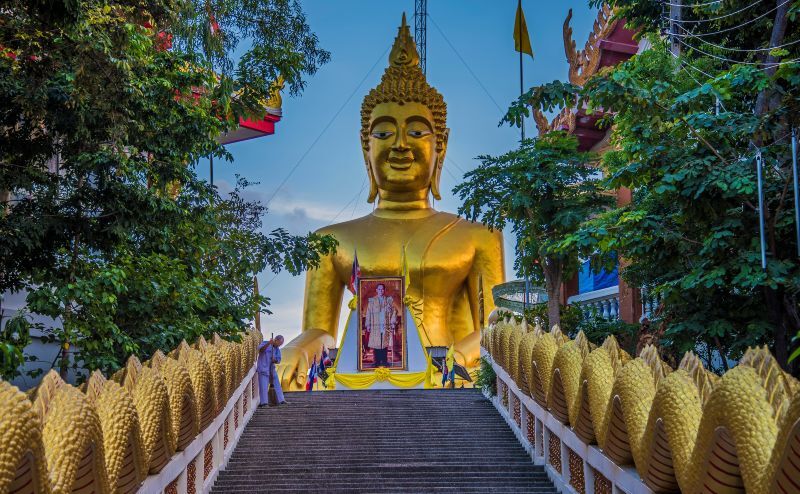 Pattaya Beaches
Pattaya's tourism coastline stretches from Wong Amat in the north to Na-Jomtien in the south — a direct distance of around five kilometres. The main town beach was Pattaya's original draw card for wartime US servicemen on R&R leave from Vietnam. By Australian standards, not to mention Thai, the beach today is just average, its sands being crammed with rental deck-chairs and the bay waters churned by watercraft.
Instead, head south over the hill to Jomtien with its wider, whiter sands and cleaner water. Local knowledge says that when you hit the beach here you turn right if you're gay, or left if you're straight. Either way you're cool, anyhow.
Alternatively, to the north of Pattaya Beach, past the Dusit Hotel on the point, you'll find the quieter, rocky coves of Naklua and Wong Amat.
Shop Talk
When tanning gets tough, the sunburnt go shopping. All the bargain beachwear, sunglasses, watches, caps, luggage and trophy T-shirts you might ever want are available in shops and arcade stalls along Pattaya Beach Road. Flexible prices — so bargain hard.
There are high quality shopping malls as well, such as Royal Garden Plaza, the giant Central Festival Center and Terminal 21 complexes, with fixed-price designer goods and excellent food courts. For all technology needs, Tukcom on Pattaya Tai-South Pattaya Road-is your magnet.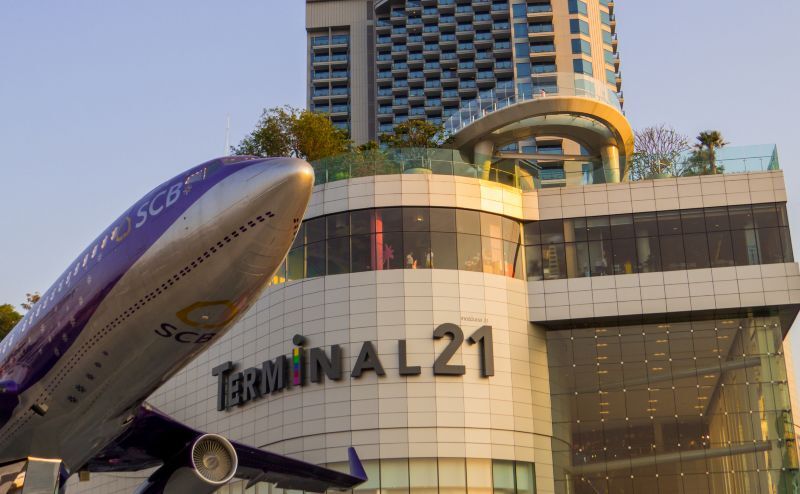 A faux-Armani army of tailors and their touts are present in force, although some of their displays more suggest yesteryear's spiv than tomorrow's stylista. However, pick a good one and you'll have an excellent sports coat, suit or frock ready to flash a couple of days later. With more serious purchases like Thai gems and jewellery, the usual caveat emptor applies as much here as anywhere.
The Golf of Thailand
It's an old pun that applies to the not-really twin cities of Hua Hin and Pattaya that face each other 100 km apart across the Gulf of Thailand. Both towns have large communities of retired, golf-loving foreigners, plus local Thai golfers. This has given rise to a slew of world-class courses that attract golfing tourists from around the world.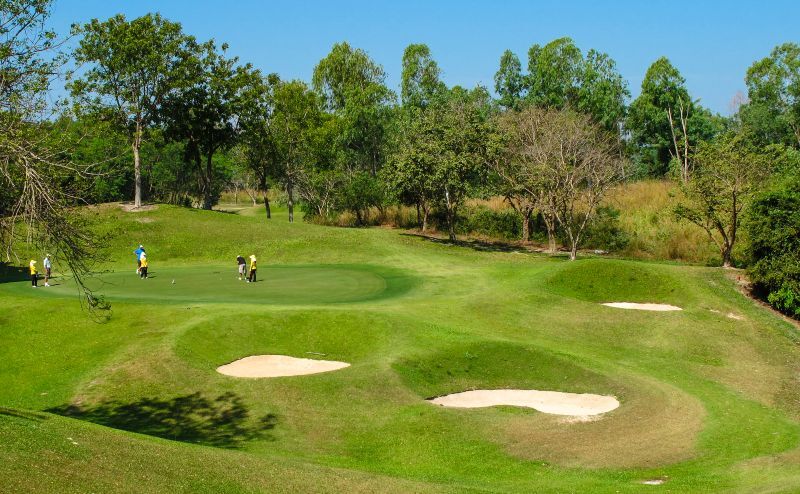 Tournaments, moderate green fees and skilled local caddies add to the appeal. There are numerous quality courses within easy reach of Pattaya, including Siam Country Club, Laem Chabang International, Greenwood Club and a dozen others, usually with hotel transfers as part of the package.
Boogie Nights
Like being in Casablanca for the waters, "No-one ever came to Pattaya for the waterfalls." A local police chief said that.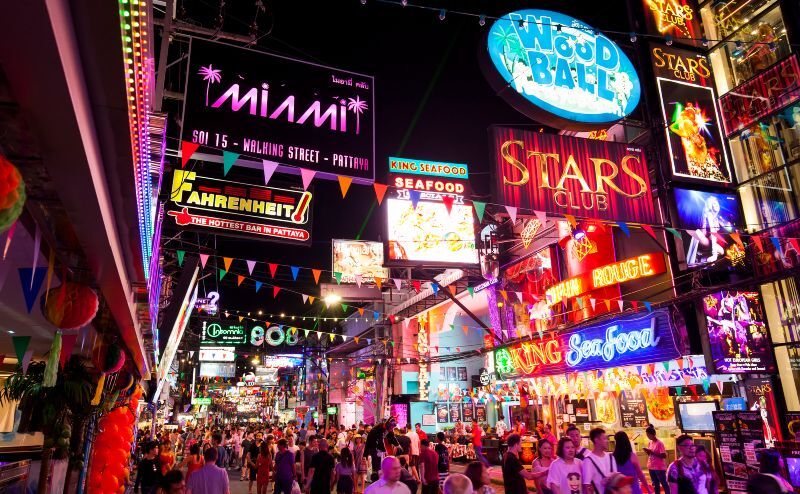 Let's not be coy. "Nightlife" is still Pattaya's unabashed middle name and particular zones of the town are of the town's nightlife are dedicated to the timeless imperative of "Eat, drink, man, woman" — and most permutations of that arrangement. (Pattaya was inclusive, diverse and LGBTQI-friendly long before these terms became commonplace.) The guiding principle, however, is definitely P4P: "Pay for Play". Geddit? Then, don't forgeddit.
"Companionship is not a problem in Pattaya, although it does take time and effort to find sincerity," wryly notes a long-time Australian expat author, Neil Hutchison.
Much of the town doesn't get going until dusk's happy hour when hundreds of beer bars start pumping out the music. On a night out in Pattaya, keep in mind the general principle of tourism here (as anywhere): "It's been a business doing pleasure with you."
If you are curious, have a drink at have a drink at an open-air bar — you won't be shanghaied or hogtied (unless you ask nicely). Chat with a bargirl, barboy, ladyboy, whoever — do buy them a drink; this is their legitimate occupation and income. Keep your wits about you. Listen and learn. It can be a mind-opener, with cultural insights you won't find in any guidebook.
A decade ago, famous/infamous Walking Street was the neon heart and groin of Pattaya. Today, the tawdry appeal of its half-kilometre of circus au go-go, pole dancers and wanna-be romancers has faded.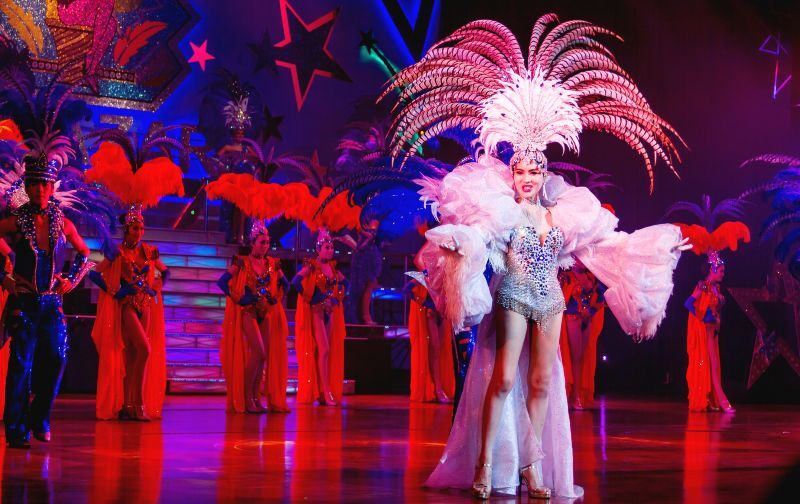 Meanwhile, North Pattaya's celebrated, long-running Tiffany Show is a lavish transvestite cabaret that stars high-kicking kathoey (ladyboys) whose skilled performances and stunning looks take any sense of "drag" out of the occasion. It's good, clean, lip-synched fun and suitable for the family.
And So To Sleep
You're spoiled for bed choices in Pattaya-Jomtien with around 150,000 rooms. Major hotel brands (most offering sea views) include Holiday Inn, Intercontinental, Hilton, Dusit, Anantra, Centara, the Pullman and Royal Cliff, plus independents like the Deco-themed, beachfront boutique Wave Hotel.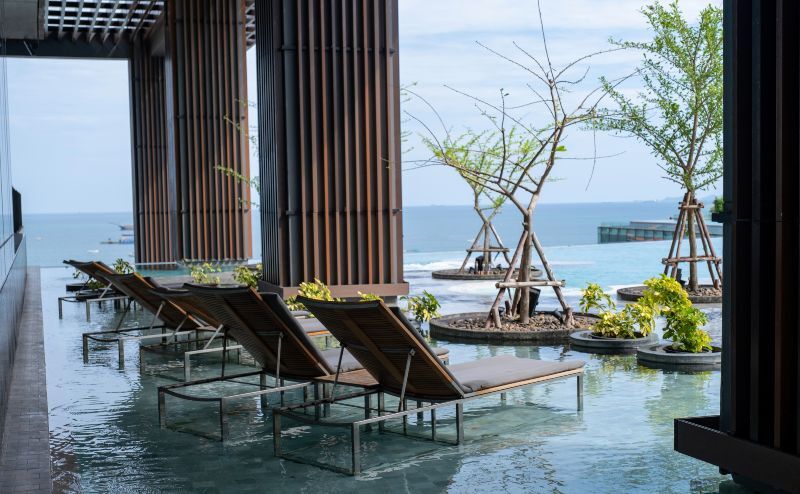 Meanwhile, there are scores of quality, mid-range budget hotels stretching from snoozy Wong Amat, through the insomniac party lands of central Pattaya and far south to semi-snoozy Jomtien, not to mention well inland, east of Sukhumvit Road.
Where is Pattaya?
Pattaya, on the eastern side of the Gulf of Thailand, is 100 km as the crow flies from Bangkok, or 150 km by road.
How to get to Pattaya
The road trip southeast to Pattaya from Bangkok takes about two hours via the Bangkok-Chonburi-Pattaya Motorway. You can take an air-conditioned bus service or book a private car and driver. The train is almost comically slow.
From Bangkok – A frequent, direct bus service runs from the eastern bus station at Ekkamai to Pattaya North bus station.
From Suvarnabhumi Airport – The bus service to Pattaya leaves from level 1.
From Don Mueang Airport – There is no direct service from Don Mueang to Pattaya. Travel into Bangkok on the airport transfer bus to the northern bus station at Mo Chit where you will join the Pattaya bus.
Pattaya airport, officially named U-Tapao Airport, is at Sattahip about 30km from downtown Pattaya. You can fly directly to U-Tapao from Phuket, Koh Samui or Chiang Mai.
Getting around Pattaya using local transport
The songthaew, aka "the baht bus", is Pattaya's most popular and cheapest form of public transport. These canopied pick-up trucks have two inward-facing bench seats; the flat fare is ten baht, unless on longer trip in which case it is 20 baht. The main "loop" routes service Beach Road, Naklua and Jomtien Beach.
How many days should I spend in Pattaya?
One full day and night is a sufficient taster for some visitors. For others wanting to relax with a longer stay of swimming, dining, massage and shopping, three days would be a start. For others, two weeks is not enough.
Is Pattaya too far for a day trip from Bangkok?
Pattaya can be sampled on a long day trip from Bangkok, noting that around four hours driving time is involved, much of it on motorways and tollways. Ideally, an overnight stay is recommended because Pattaya's draw card, its nightlife has something for everyone.
Author: Australian writer John Borthwick has covered Thailand for years, from Songkran to Loy Krathong, and is still finding new stories to write. Hill country, islands and khao niaow mamuang (mango sticky rice), he revels in almost everything about the country, with the possible exception of double pricing. And once walked across Thailand in half a day — true.