Ultimate Chiang Mai Market Guide 2023
Heading to Thailand's Northern capital, well, our Chiang Mai Market Guide is required reading! Chiang Mai is home to some of the best markets in Asia, so make sure you know what is on when and plan your visit so you can explore more than a couple of them.
Read on for a first-hand experience of Chiang Mai markets in 2023. You'll know exactly what to expect when you visit.
In Chiang Mai, markets will become a central point of your visit. You're spoiled for choice when it comes to markets in this grand old city. From walking streets, night markets, food markets, wholesale markets, fabric markets, and everything in between.
Something exists for every taste, budget, and want. You'll find unique souvenirs and trinkets to take home with you, roadside massage areas to enjoy, delicious food stalls to sample, and exotic fruits to try.
Markets here are less hectic than Bangkok, and certainly easier to handle with cooler evening temperatures.
Haggling Tips
One thing to note about Chiang Mai markets is the haggling process. As a rule of thumb, if you are given a price, try to haggle by starting at half of what the vendor tells you. Go from there and you can likely get to 20-30% less than the original price.
On the other hand, if a price is written down, this is usually the final price, and it's not very polite to haggle. The key exception is when buying multiple of the same item. For haggling newbies, a simple thing to do is ask for the best price and that will shave 10-25% off.
Note About a Few Obvious Omissions
A caveat to this article is we mostly won't mention things you can find at almost all the Chiang Mai markets. This includes things like painted elephants, elephant pants, massage stalls, specific street foods, etc. You don't need us telling you where to go for these things.
Additionally, we try to avoid recommending specific food stalls. The last thing you want to do it search for a food stall at a market!
Chiang Mai Markets Table – Which one when?
| Market Name | Day of the week | Time |
| --- | --- | --- |
| Chiang Mai University Market | Daily | 5-11pm |
| Bumrung Buri Market | Daily | 7:30-5pm |
| Chang Phuak Gate Night Market | Daily | 5pm-12am |
| Warorot Market | Daily | 4am-6pm |
| Ton Lamyai Market | Daily | 5am-6pm |
| Thanin Market (Siri-Wattana Market) | Daily | 4:30am-9pm |
| Think Park Night Market | Wednesday – Friday | 4-10pm |
| White Market @Nimman One | Friday – Sunday | 11am-10pm |
| Wua Lai Road | Saturday | 5-10:30pm |
| Tha Pae Sunday Walking Street | Sunday | 5-10:30pm |
| | | |
Weekly Night Market in Chiang Mai
There are a few night markets in Chiang Mai that only occur once a week. These are on a Fri-Sun and happen in different areas of the city.
Saturday Night Market (Wua Lai Walking Street)
The Saturday Night Market is actually more of a Saturday walking street. Every Saturday night, Wua Lai Road is closed down and transformed into almost a festival-like atmosphere. There is music playing along large parts of the market, and it gets very crowded at times.
If you get hungry, there is an entire court filled with food vendors selling all the typical Thai eats, along with an array of other cuisines.
This market is filled with local handicrafts. It's a great place to go if you're looking to pick up something a little more authentic and less commercialized.
You will, of course, find all the usual suspects here as well!
A really cool thing special about this market is all the different street portrait artists. If you're keen on a self-portrait, this market is a great place to go. And when you tire of walking, a foot massage won't set you back more than €8 for an hour.
Where: Wua Lai Rd, Tambon Hai Ya, Mueang Chiang Mai District,
Sunday Night Market (Tha Pae Sunday Walking Street)
You've likely heard of the legendary Chiang Mai Sunday Night Market. Many would suggest if you only have one day in Chiang Mai, make it a Sunday. And once you visit, you'll see exactly why: this is a massive market.
The Sunday Market begins at the Eastern Gate of the old city walls from 5pm till late. This entrance is called the Tha Pae Gate, and thus the namesake of the market as well.
It stretches for over a kilometre and with the side alleys probably approaches two kilometres of street vendors and street food stalls. Just when you think you've gotten to the end, you'll see it inevitably has more to offer.
A feature of this market is that it runs its way right through the Chiang Mai Old City. There are many temples in the area that are lit up and open for visiting. It's a great way to not only experience the best market in Chiang Mai but also see some beautiful temples.
As you walk through, passing dozens of stalls, you realize just how huge this market really is. This is because it's an amalgamation of many stalls normally found around the city. That's why if you only have one day in Chiang Mai, make sure it's a Sunday.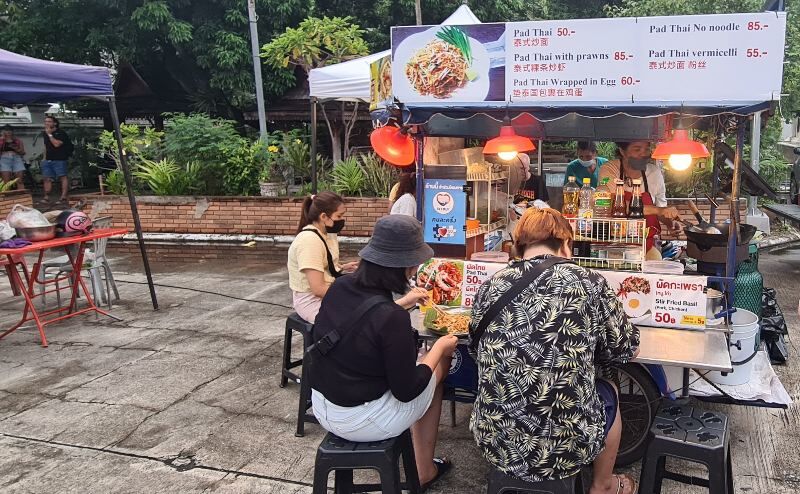 You'll find stalls upon stalls of the generic touristy traps: think elephant pants and croaking frogs. But right alongside these, there are dozens of stalls selling unique handicrafts not found anywhere else in Chiang Mai.
It's difficult to name a standout or must-see stall, as there are too many to count. Things that come to mind are beautifully painted parasols, taxidermy insects, brass jewelry, local ceramics, and locally made clothing, to name a few. It really is a place to be experienced. Find a seat, grab a cold beer and some mango sticky rice, and take in the view.
Where: Rachadamnoen Rd, Tambon Si Phum, Mueang Chiang Mai District,
Daily Markets in Chiang Mai
The markets below all happen every single day of the week. Sundays are the slowest days for each market, with not every stall opening. Fortunately, on Sundays, you have the huge Sunday Night Market to keep you busy!
Chiang Mai University Market
This night market is aimed at locals, and specifically students. This isn't surprising given its proximity to the university. Students flock here, and that means you'll find all the trendy clothes you can dream of, at very affordable prices.
The range of wares is huge. At the luxurious end, you can get a floor-length gown fit for a black-tie event. All the way through to a thrift section with tees starting as low as 100 Baht. You'll also find a lot of optical stores selling glasses for a fraction of what you'll find back home.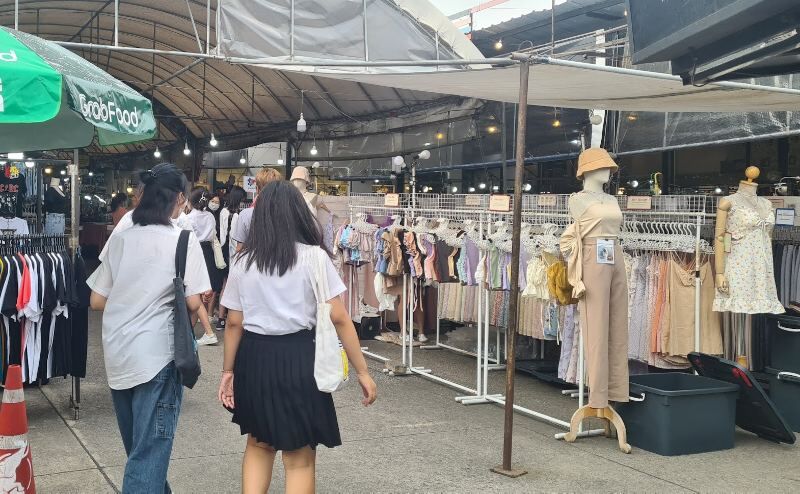 Right next door is the Malin Plaza, (10-11pm daily) which you may not even notice that you've stumbled into. It continues the trendy stores, all under the cover of a massive arched canvas pergola. Come here to dress like a local and leave feeling like a million dollars.
Where: ซอย สุเทพ Tambon Chang Phueak, Mueang Chiang Mai District,
Chiang Mai South Gate Market (Bumrung Buri Market)
The Bumrung Buri Market is all about food. A Chiang Mai food paradise that stretches along the river on the south side of the old city. It's open daily from 6am until midnight, perfect for any time of the day.
In the mornings and during the day, there is a fresh market with stallholders selling fresh Thai delicacies and cooking ingredients. You'll find everything you need to whip up an authentic Thai meal. You'll also find plenty of delicious northern Thai food if you're looking for an incredibly cheap and tasty meal.
During the evenings, food vendors spill out all along the river, selling every type of food you can imagine. All your Thai favourites can be found here, in many iterations. If you're overwhelmed by choice, the BBQ sticks are always a good option.
Northern Thailand is known for another dish: Khao Soi, this is a delicious curry broth with noodles and chicken. It's reminiscent of a Thai take on a laksa, but more curry forward. Don't leave Chiang Mai without sampling a Khao Soi.
If you come here on Saturday evening, you'll kill two markets with one trip. The Saturday Walking Street is across the road. Either eat, then walk. Or walk, then eat. You really can't make a poor decision.
Where: 19/2 Nantaram Rd, Haiya Sub-district, Mueang Chiang Mai District,
Chang Phuak Gate Night Market
The Chang Phuak Night Market is located on the North Gate of the Old City. This is more of a local market with only street food vendors.
With all the variety of great food, you can find something for every appetite. The prices are very reasonable with fruit juice and smoothies available for around 50 baht. Most street foods can be had in the 50-100 Baht range.
This chilled out market is a great stop if you're tired of crowded places and are in need of a chill evening enjoying Thai culture.
It's a pleasant way to get dinner as a local, and while a small market, of the three stalls we tried none disappointed!
The South Gate market is much larger and will provide you with a much larger range of options, but this market is the home of the famous Cowboy hat lady from Anthony Bourdain's TV series and we decided we needed to know if her pork was still as good as he had found it.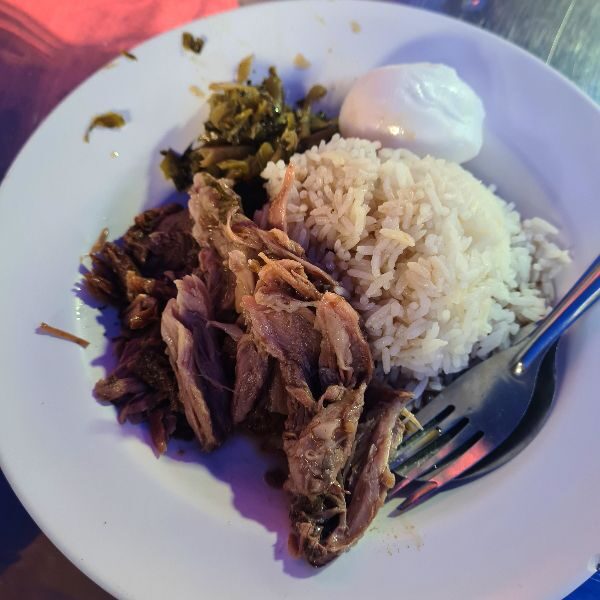 As of September 2022, the Cowboy hat lady of Chiang Mai is still making her famous pork leg rice, the stock really is as wonderful as we had read and we had to restrain ourselves from having a second helping!
Where: 248/70 Manee Nopparat Rd, Tambon Si Phum, Mueang Chiang Mai District
Warorot & Ton Lamyai Markets
These markets are in two buildings right next to each other, so you would be forgiven for thinking it's the same place upon initial inspection.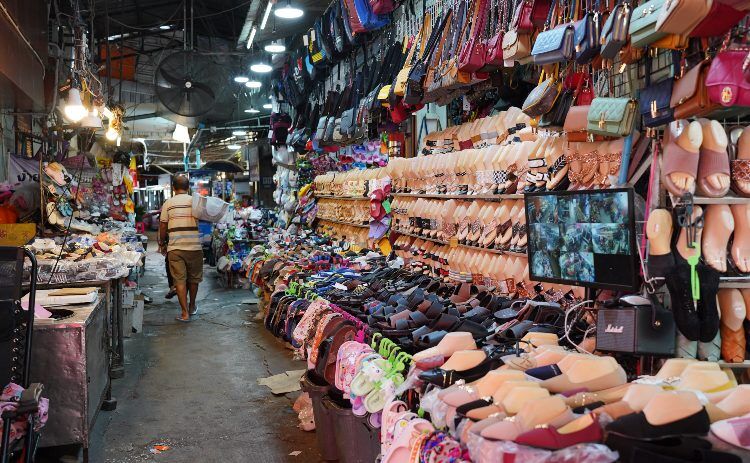 Both markets have similar stores and opening hours, so they are combined in this article. These two markets are known for being very affordable and aimed at locals.
As you arrive on Wichayanon Road, you'll see two buildings flanking you that take up the entire block. The right-hand side is Ton Lamyai Market, with more fresh produce, shoes, meat, and cooking equipment. On the left-hand side is Warorot Market with more jewelry, clothing, and other household items.
How are the markets similar?
Both markets have an inner section that sells dried goods that are very similar. And both markets have clothing in the upper levels. These two markets are aimed more at the locals, and this means good deals for savvy visitors prepared to haggle.
When exploring these markets, it's best to wander around without any specific goal in mind. This will allow you to experience it in its raw form, and you're likely to stumble upon something that you've been looking for.
Go to Ton Lamyai Market for…
Most of the fruits and fresh vegetables are found on the outskirts of the market with vendors, local farmers, on the streets. You'll notice prices are 20-30% lower than in Thanin, listed below.
You can find the best deals on just about all the fruits and veggies, and certainly net a bargain compared to the supermarkets.
Where: 88 1 Wichayanon Rd, Tambon Chang Moi, Mueang Chiang Mai District
Go to Warorot Market for…
On the outskirts of Warorot market you'll find many street stalls selling jeans and other clothing. While both markets have a number of fabrics stores in them, Warorot Market has the most.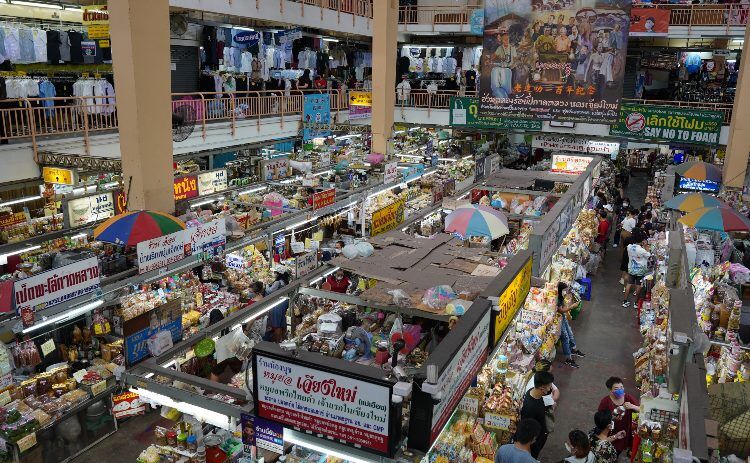 If you're looking for any kind of fabric, it's likely to be found here.
Where: Wichayanon Rd, Tambon Chang Moi, Mueang Chiang Mai District,
At Night
Wichayanon Road transforms into a food night market. With food trucks popping up all along it, selling every type of food you can imagine.
Thanin Market (Siri-Wattana Market)
Thanin Market, also known as Sri-rat Market is what locals consider to be a little more upmarket. It's certainly more organized and tidier than Warorot. Prices tend to be 10-30% more, but that shouldn't put you off given how cheap things are in Thailand.
This food market is split into two pavilions, in one, you have mostly fresh meat, fresh produce, cooking supplies, and several street food trucks. In the second pavilion, you have mostly food vendors where you can find cheap and delicious local dishes for €0.5-3.
Don't miss out on ordering one of the fruit shakes, these come in as a steal for just under €1.
You can also find the delicious BBQ chicken at one of the stalls. If you haven't already tried it prior to this market, you cannot miss it.
Price Ranges for Fresh Produce
Skip the supermarket for fresh produce and come here instead. Many vegetables are arranged into ฿5and ฿15 baskets for easy shopping. You can easily pick up enough veggies for a salad and not spend more than ฿30.
Fruit is a fair bit cheaper than the supermarkets as well.
Where: 193 Changpuak Rd, Tambon Chang Phueak, Mueang Chiang Mai District,
Anusarn Market & Surrounds
While the famous Chiang Mai Night Market is a shadow of its former self, hope is not lost!
The road where the Chiang Mai Night Market is on plays host to a plethora of pop-up tents.
These tents sell all kinds of souvenirs, making it an easy stop to stock up if you can't make the Saturday or Sunday markets.
Along this road, there are a few larger markets, the best of which is Anusarn. This market is mostly souvenirs, but you have plenty of food options to keep you going as well.
Where: 14-15 Changklan Rd, Tambon Chang Khlan, Amphoe Mueang Chiang Mai
White Market @Nimman One
This pop up market is only around Friday-Sunday. However, it's well worth a stop if you're already in the trendy area of Nimman. White tents are set up and the theme of this market is Japan.
You'll be surprised by how many stalls there are, as it just seems to keep going on and on. The White Market is a bit more trendy, so expect prices to be 10-20% higher than other markets on this list.
Where: 1/4-1/5,1/7-1 10 Nimmanahaeminda Road, เมือง Chiang Mai
Think Park Night Market (Tue-Thu)
Run in the evening on Wednesday – Friday from 4pm till late, it's right across the road from Maya Mall and opposite the White Market.
White tents pop up with a small collection of stallholders that sell a surprisingly wide range of goods. From butterflies, elephant pants, a coffee equipment stall, crystals, handmade clothing and more.
Where: RX28+FXQ, Nimmanahaeminda Road, Tambon Su Thep, Mueang Chiang Mai District
Heading to Phuket? We have a Phuket market guide to help you plan your visit.


About the author: Paula Morgan first visited Thailand in 1999 and has been returning regularly ever since. This year she has spent more than 10 weeks discovering what's new. She loves exploring its less visited spots, not just the iconic landmarks and historic temples, but the hidden alleys, family run cafes and food stalls and the small communities in the islands of the south and the lush forests and mountains of Thailand's north.