How to Choose the Best Doi Inthanon Tours
Doi Inthanon tours are some of the most sought-after day trips from Chiang Mai. With so many options to choose from, it's tough to decide which one is right for you. That's why we asked our writer and Chiang Mai local Brian, who's also a regular Doi Inthanon visitor, to share his tips for the best things to see and do in the national park. He's also compared the top tours to help you choose the best one for your visit.
If you want to have an amazing day trip from Chiang Mai, I suggest a visit to Thailand's highest peak! It's nestled in the mountains of the Chiang Mai province to the southwest of the city.
This page contains affiliate links. Our full disclosure policy is here.
A fifty-minute drive will take you to Doi Inthanon National Park, a paradise full of waterfalls, hiking trails, a spectacular temple complex, and more.
Doi Inthanon national park is home to Thailand's tallest mountain. Its peak is glorious and at its highest point sits at 2565 meters above sea level.
This picturesque mountain provides you with several options for hiking, temple viewing and lookouts. It also attracts birdwatchers from all over to take photographs of the local fauna.
Choosing the right Doi Inthanon tour
Doi Inthanon National Park hosts a variety of phenomenal things to do for people of all ages and interests from hiking to rafting, bird watching to waterfall chasing.
The key to a great tour is finding an itinerary that matches your interest and ability.
While you can explore the park on your own, it is best to have a local guide show you around if you are only visiting the area for a short amount of time. There are full-day tours, half-day tours, overnight tours, and multi-day tours available to fit the needs of any traveler, whether you are an adrenaline junkie or simply want to appreciate the natural beauty of Northern Thailand.
Some tours include trekking and hiking popular trails such as the Kew Mae Pan Trail or the Mae Pan Nature Trail. Others may include visiting a Karen village and even meeting some of the local Karen people.
You can hire a car or a bike and explore on your own, but the experience won't be nearly as enriching or informative and you won't have access to special areas without a local guide.
We recommend that you do some research before you go, and know what you want to see on your visit. Knowing what you are buying will help you and make sure you don't miss the best spots. Get your Guide offers a 24-hour cancellation policy and names the operator up front, so we book our tours with them.
You can wait until you arrive to book your tour, there are stalls in the night bazaar and across the city offering trips, but sometimes with these tours, it's very hard to know exactly what you will get. It can also be hard to cancel the tour should your plans change.
Doi Inthanon Tour Transport
The transport offered for your Doi Inthanon tour will depend on the price you are prepared to pay. Budget tours are usually by red or blue truck or "songthaew" as the locals call it. Songthaews are the iconic red-covered trucks used for private tours and inner-city transportation across Thailand.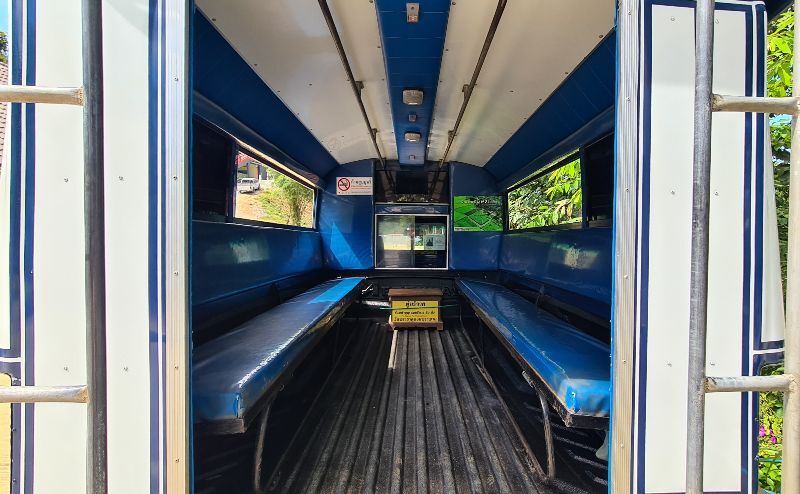 These are on offer at stalls all over the city and while they are fine, if you just want to see the twin pagodas and perhaps a waterfall, it's a long way to go sitting in the back of a truck. They also offer little protection from the elements.
A more expensive tour will offer an air-conditioned minibus, or possibly an SUV. When choosing your tour, consider the transportation carefully, especially if you have any mobility issues,
Most day tours begin in Chiang Mai's old city, or from the night bazaar, depending on which operators you booked. The tours we recommend offer pick-ups from your hotel.
The key sites to see in Doi Inthanon National Park
Doi Inthanon National Park offers some amazing sites and outdoor activities, as listed below. I suggest you read through and decide what you want to see most so you can make sure your tour includes them.
Twin Royal Pagodas
On the main mountain road up towards the Doi Inthanon Summit, you will find the Twin Royal Pagodas also known as the two chedis.
The oldest chedi is called Phra Mahathat Naphamethanidon and was built for King Rama 9 in 1987 and the second, the Queen Pagoda, aka, Phra Mahathat Naphaphon Phumisiri was built in 1992 for the Queen of Thailand's 5th birthday.
Surrounding the queen pagoda are picturesque gardens and an artfully placed bridge spanning a small pond.
For the best chance of capturing great photos of these two royal pagodas and seeing the amazing panoramic views, try to choose a tour that stops here later in the day rather than as its first stop
This part of the national park is considered sacred and to be respected so be sure to wear respectful attire, which includes covering your shoulders and having pants or skirts that cover your knees. This is particularly important if you plan on entering the two chedis – the queen pagoda especially, as the former queen was highly respected for her work in northern Thailand.
Keep in mind there is a separate entrance ticket of ฿40 for the twin royal chedis. Your tour may or may not include this in the cost, so be prepared to pay it directly on arrival if required.
Visit a Karen Village
Many ethnic minorities, once known as 'hill tribes,' live in Thailand. Around 1 million Karen (Kayan) live in North Thailand, making them the fourth largest ethnic group. They live mostly in the Chiang Mai area. Many of the Karen in Thailand have fled from Myanmar.
They are proud indigenous people who have their own language and rich culture. The Karen people are also well known for their hand-woven textiles and traditional medicines.
The Karen are one of the few minorities that still practice animism, which is the belief that everything in nature has a spirit.
When selecting a Doi Inthanon National Park tour, you will find it's possible to include a visit to a Karen village. The Karen people's hand-tilled rice fields are an idyllic vista and a chance to purchase some handcrafts.
Mae Klang Luang Village
The Karen people that live in Doi Inthanon National Park live in a village known as Mae Klang Luang.
You can see how the local people live in their day-to-day lives here, have your tour guide translate as you barter and connect with the people living in this village near Doi Inthanon summit.
Kew Mae Pan Trial
The Kew Mae Pan trail is a great hike that is packed full of interesting sites. You'll see a lot of amazing things as you make your way through the fern-filled rainforest and along the incredible ridge section. Making it to the highest point in Thailand is an amazing feat, well worth the effort.
At only 2.78km long, the Kew Mae Pan trail is probably the least strenuous but most rewarding hiking trail in Doi Inthanon National Park.
The trailhead starts at around 2200 meters above sea level and follows a loop that wraps all the way around to the start.
This hike isn't long and the elevation increase isn't overwhelming. Many avid hikers might even consider it a short walk.
The National Park hiking trails in Thailand are color coded to indicate difficulty. White is the easiest, then green, and blue. There are two black ratings. This trail is rated green because it is relatively short and there is not much change in elevation.
There are occasional sets of stairs and short, steep incremental inclines in a few spots on the Kew Mae Pan nature loop.
Ang Ka Luang Nature Trail
The Angka Nature Trail is a fantastic hike for the whole family and while not off the beaten path it's not usually overrun with visitors either. It's a great way to see some of the best that Doi Inthanon has to offer.
This nature trail follows a wide and marked path the entire way, making it perfect for those not used to hiking.
Along this track, you get to look at the various flora and fauna that live in a "cloud forest" and marvel at the different species of insects and birds.
The local moss is especially of note here. There are multiple species and the uniquely high altitude of the highest point in Thailand is what makes certain species found only on this mountain.
A local guide will help you discover the sites hidden in this lush nature trail.
Note: The best time for hiking in Doi Inthanon is from November to May. Outside this period, some trails are closed due to wet weather.
The Former King's Royal Projects
During a trip to Doi Inthanon, the revered former Thai King Bhumibol Adulyadej was shocked by the increase in the opium trade.
Because it was a lot more profitable than other crops and was the only crop that allowed them to survive in these hilly areas, farmers used their soil for planting poppies. In an effort to address the drug epidemic, the King created several incentives for farmers to change their crops. This was the initial incentive for the King's royal projects.
He promised the farmers that if they grew other legally planted crops, the royal family would purchase them at higher prices than the poppies. Because of this, they planted fruit, vegetable plants, flowers, and coffee.
The King's initiatives are a paramount program for the ethnic minorities that live in Doi Inthanon National Park. Pick up a bag of local coffee at the coffee plantation – it's unique to Doi Inthanon National Park and an essential component of the King's royal projects.
Waterfalls in Doi Inthanon
Of course, Thailand's highest peak has some incredible waterfalls, including one of Thailand's highest waterfalls, and you should try to see a couple when you visit Doi Inthanon.
If you book a tour with a longer hike, you will probably discover some of the more hidden falls. Alternatively, book a private tour and ask to see as many as possible!
Wachirathan Waterfall
As you make your way along Route 1009 towards Doi Inthanon, you will find Wachirathan waterfall. It's almost impossible to stay dry while viewing the impressive Wachirathan waterfall.
Splattering down a fifty-foot wall onto a rocky bottom, it creates quite a splash. If you visit in the wet season – bring rain gear!
Wachirathan waterfall is an easy pick for most day tour itineraries as it is open almost year-round, only occasionally closed on special Thai holidays. Don't worry your tour guide will know and have a Plan B.
Sirithan Waterfall
About three kilometers before the Pha Dok Siew nature trail, also on Route 1009, you will find one of the most spectacular waterfalls on your Doi Inthanon tour.
The Sirithan waterfall has a large engulfing cascade towering over the side. There is a viewing point that includes a platform to stand on which is perfect for pictures.
Try to include both of these easily accessible waterfalls on your Doi Inthanon day trip.
Prepare for your Doi Inthanon National Park day trip
You will enjoy your Doi Inthanon day tour best if you come prepared. Remember, you are heading to the highest point in Thailand, so it's essential that you dress to suit the elements.
While it might be hot in Chiang Mai, it can be cold and wet in the park. Bring along a poncho in case it rains, which during the rainy season is basically guaranteed.
Also, a sturdy pair of hiking boots is essential in rainy seasons if you plan to hike on your day trip as the tracks can get very slippery.
Make sure you have some Thai baht with you to pay for any small entrance fees like those at the Twin Pagoda that may not be included in your tour cost.
You will also need cash on hand when you visit the Karen village to purchase some of their handmade goods.
The Doi Inthanon National Park is dotted with roadside carts selling snacks and drinks. Choose a local restaurant and try some homemade dishes. Most tours include a stop for lunch, your guide can help you order if you're not sure what to eat.
If you are traveling in a family or group, consider booking a private tour so you can hike at your own pace.
The Top 5 Doi Inthanon Tours in 2023
We recommend going on a small group tour. You will notice all the tours we recommend have a maximum number of 12. A smaller group size leads to a better experience, as your tour guide has time to answer your questions and make sure everyone is getting the best experience. This just is not possible with larger group size.
To make it quicker to compare tours, which confusingly all have very similar names, we have compiled a list of tours that offer the best of Doi Inthanon.
Doi Inthanon National Park Day Trip & Hike
Doi Inthanon National Park 9-Hour Group Tour
Doi Inthanon National Park Small Group Full Day Tour
Doi Inthanon Private Tour & Soft Hike to Hill Tribe Village
Doi Inthanon National Park Hiking Tour
Comparison of top 5 Doi Inthanon Tours
Tour Name
Operator
Hiking
Key stops
Book
Doi Inthanon National Park Day Trip & Hike
Touring Center

2 hrs
Karen village, King's Projects
Check price
Inthanon National Park 9-Hour Group Tour
Touring Center
Angkha
Nature Trail
Vachiratharn Waterfall & Mae Klang Luang Village
Check price
Doi Inthanon National Park Small Group Tour

TripGuru
No hiking
Sirithan & Wachiratharn, Sobhad Village
Check price

Doi Inthanon Private Tour & Soft Hike
Pon Chiang Mai Private Tours
2 hr hike, local guide + Ang-Kha Nature Trail
Baan Khun Klaang
Check price
Doi Inthanon National Park Hiking Tour
Trailhead
4km hike
Karen village, swim in a natural pool, visit a waterfall
Check price
Please note:
All tours have a 24-hour cancellation and full refund policy
All depart from Chiang Mai city center or from your hotel
All these tours visit the twin chedis of King Bhumiphol and Queen Sirikit of Thailand
They offer English-speaking guides and some have options for other languages
Lunch is usually provided, often at a fantastic local restaurant
All offer air-conditioned vehicles and hotel pick up
A full-day trip lasts between 7 and 9 hours.
Entrance fees will most likely be included in your package if you decide to go on a private tour or small group tour.
Tours may occasionally be canceled in the rainy season to protect your personal safety.
Your tour will always include a friendly local guide who will show you all the amazing views and spots that you may otherwise miss. You can expect an English-speaking guide unless you specifically book a tour in another language, it may be possible to find a Spanish or French guide.
Enjoy your time at Doi Inthanon National Park!
About the author: Brian Hammel, originally from the suburbs of Boston now lives and works abroad, adventuring, discovering and writing. He has been based in Chiang Mai for 4 years and loves nothing more than jumping on his bike and exploring the less-known spots in Northern Thailand. On a day off work, you will usually find Brian jumping into waterfalls or finding a mountain to tackle.