42 Bangkok Tips For First Timers: Must-Read Guide
About to take your first trip to Bangkok? These Bangkok tips for first timers will help you get started on the right foot, from where to eat and to where to stay to which sights should make your itinerary.
If you are planning to visit Bangkok for the first time, you are in for a treat. To make sure you come to love the city as much as we do, our good friend Helen from Differentville has shared her list of Bangkok tips for first-timers, aka how not to hate Bangkok, to help you make the most of your visit.
This page contains affiliate links. Please read see our disclosure policy.

Considering I have been to Bangkok eight times it might surprise you to hear I hated it the first time I went. So did my partner (who is now as addicted to the place as I am).
It's a story I hear over and over again–and while it's taken me a long while to 'get' the place, I think I've picked up a few tips that might help everyone on their first time in Bangkok have an incredible time.
Why I didn't enjoy my first Bangkok trip
My first trip to Bangkok was sometime in the early 2000s – prime The Beach territory. Until then, most of my holidays had been to Europe or the USA, but I had heard that in the other direction, there was this place called Asia where chaos reigned.
Here the roads were full of motorbikes, often carrying everything from a whole wardrobe or a small family of pigs.
The food was exotic and spicy, and you diced with death if you ate it anywhere except a clean, sanitised restaurant.
Markets either floated or were a cacophony of noise, smells and sights guaranteed to turn me vegetarian.
There were gleaming temples, winding alleys, a hint of sin… Imagine my surprise therefore when I turned up in Bangkok to find a branch of Boots (a UK pharmacy) opposite my hotel, McDonald's on every corner, and a selection of designer clothes shops to rival Bond Street in London. I was confused.
I wandered around the temples; I went to the backpacker central of the Khao San road where people with dreadlocks and ridiculous traveller's trousers looked like they'd arrived in 1974 and never left.
I whizzed about in tuk-tuks and I ate my body weight in Pad Thai, but I didn't find this madness I was looking for.
I went home decidedly underwhelmed and thinking that Bangkok was overrated. Other people have the opposite experience. 'It was all just too much,' says my partner Neil. 'Everything was noisy and smelly.
Bikes were everywhere. People were everywhere. I just couldn't think. I decided I wouldn't go back.' We were both staying on the same road, just at different ends!
Over time I've realised that whatever you're looking for in Bangkok – frantic madness with a side order of grit, a 'mild' introduction to Southeast Asia, or trendy bars and coffee shops that wouldn't seem out of place in London or New York, you can find it in Bangkok (if you know how) – and in time it's a place that just gets under your skin.
But before that can happen you need to enjoy your first time in Bangkok and here's my list of tips that I think will help. You'll learn where to go, what to eat, and what to do to have an awesome first trip to Bangkok.

Sightseeing in Bangkok
I'm guessing you've come to Bangkok to see some sights and there are a lot of them – the Grand Palace, Wat Pho, Wat Arun, and Khao San Road should all be on your must-see list for a Bangkok first-time visitor – but if you're not careful, your first trip to Bangkok can seem like a mass of temples, all blending into one another and not a lot in between.
That's a shame because if you look behind the surface a bit of Bangkok and you'll find a fascinating city full of intriguing things to discover.
So, here are some ideas that might not be on the radar when you're visiting Bangkok for the first time but should be…
1. Find the areas with character
On my first time in Bangkok, I stayed as so many people do in the area of Sukhumvit. It's a fantastic place – if you want to go shopping…if you're looking for somewhere with a bit more grit or
character, you won't find it here…as my friend Greg (another Bangkok first-time hater) said, 'I just found it all really sterile.'
Areas with a bit more character to check out include Chinatown, Talad Noi, a working district full of car repair shops that'll make any photographer's day, Little India, and the Khlong Toei Wet Market.
2. Don't just go where everyone else does
If your Bangkok first-time itinerary reads 'Grand Palace, Wat Pho, Wat Arun, Khao San, and Damnoen Saduak Floating Market' you'll see some amazing sights, but you might also walk away from Bangkok saying it's too touristy, so mix things up a bit.
The places above will help, but if you have time also think about visiting Nang Leong Market for all the cheap food you can eat.
You might see one or two other foreign faces in this lunch place for locals but not many more than that.
North Samsen Road Even around the tourist centre that is Khao San road, wander north about 25 minutes-walk up Samsen Road and you'll find a truly local area with an amazing wet market and some fascinating backstreets. Find directions in this guide to less touristy things to do near Khao San.
Taling Chan about 11km from Bangkok's Grand Palace is no longer the secret it once was, but it's still a good place to get some nice pics of a genuine floating market – without having to get up at 4 am to beat the crowds at Damnoen Saduak.
Take a day trip to Maeklong Railway Market. This market is famous as a train runs through it daily – yes, it's packed with tourists, but if you go by train, rather than on a tour, you'll get an experience few other folks do. You'll find full instructions on how to get to Maeklong by train here.
3. Get up early
If you are going somewhere super touristy (and you should because there's a reason all the main Bangkok sights are on your must-see list), go early – everyone else is sleeping off the after-effects of 200 baht buckets of booze!
4. Find somewhere to chill out
Anywhere in Asia can feel a bit full-on if you're out pounding the pavements day in, day out.
And if you're not going to come away from your first time in Bangkok, needing a holiday or swearing never to return, you'll need to take a break sometimes.
Sit by the pool in your hotel sometimes – it's not a crime (it's where you'll find me most mornings until Bangkok wakes up!)
If you want to combine chilling out with sightseeing, visit Lumphini Park, which, once you get away from the traffic that rings it, is a proper escape in Bangkok
Or, go and see an exhibition at the Bangkok Art and Culture Centre opposite the MBK shopping centre. The silence here makes a welcome change.
There's also a park just outside the, sometimes insanely busy, Chatuchak Market that you can escape to when inside the market gets too hot and sticky.
5. It's okay to go to McDonald's and hope it all goes away
So you're visiting Bangkok for the first time and you're ready to throw yourself into 24-7 Thai Culture.
And then five days in, you've had enough spicy food, it's too hot, you're sick of Thai beer and no you don't want a bloody t-shirt with Same Same on it.
That's fine – go get a Maccas. Sit in the air-con and literally and figuratively chill. There's no law that says you have to go all Thai, all the time.
Personally, though if you're going to eat fast food in Bangkok I'd say go to KFC – it's great in Bangkok, the staff seem to genuinely enjoy their jobs; you get cutlery; the food is great – and it comes with chilli sauce!
If it is all getting a bit much, but you don't quite want to go fully Western, some nice compromises are:
Head to the giant ICONSIAM shopping mall and go to their floating market food hall. Clean, easy, air-conditioned – and full of local restaurants.
Visit Cabbages and Condoms – it's a Thai restaurant with a unique theme. The food is good, the staff speak English, it's nice and calm (just wear insect repellent).
Wander around the food hall at Siam Paragon – it's one of my favourite places in the city. Just buy a prepaid card, load it with cash, and pick whatever looks good.
Check out the Unicorn Cafe and destress cuddling magical creatures.
6. Keep your eyes peeled
Some of my favourite Bangkok moments have been nothing to do with the big sights – they've just been things I've spotted on the street like watching a pink-haired old lady feed her duck just a few minutes walk from Khao San Road – who knew?
Another day I watched a troop of Lion Dancers squeeze their entire costume (and all of them) into a tuk-tuk and speed off to their next job.
I was on the bridge overlooking CentralWorld as a Thai football team went past on an open tour bus with what seemed like every single moped in Bangkok riding alongside them beeping – that was a never-to-be-repeated experience.
None of them are in any tour book, but they're some of my best memories of my trips to Bangkok.

There's so much going on if you keep your eyes peeled – and always, always look in shop doorways. Some of them are amazing.
Scams: what every first-time visitor to Bangkok needs to know
'Everyone is trying to rip you off' – is another common refrain you hear about why people hate the city after visiting Bangkok for the first time.
And yes, I will confess I've met a few scammers in my time there. Here's what not to fall for…
7. The Grand Palace is probably open
The first time I went, I got in a tuk-tuk to go to the Grand Palace.
If you're going to find a dodgy tuk-tuk driver in Bangkok, saying the words Grand Palace will make them manifest faster than saying Beetlejuice three times brings out Michael Keaton.
They smile and say. 'It's closed today, let me take you somewhere else instead.' That somewhere else is his brother's shop!
You'll also find 'helpful' people telling you that it's closed on the roads around the Palace and other major sights.
Remember the Golden Rule of Bangkok – unless something very important is happening with the Royal Family (which will be on the news), it's extremely unlikely that any of the major attractions are closed when they are supposed to be open.
The Grand Palace is open from 8.30 am to 3.30 pm, 7 days a week. Oh, your hostel is very unlikely to have burned down without them telling you too.
Also watch out for any tuk-tuk driver who wants to take you on a detour to a shop, restaurant, or bar, en route to wherever you want to go. Just say no.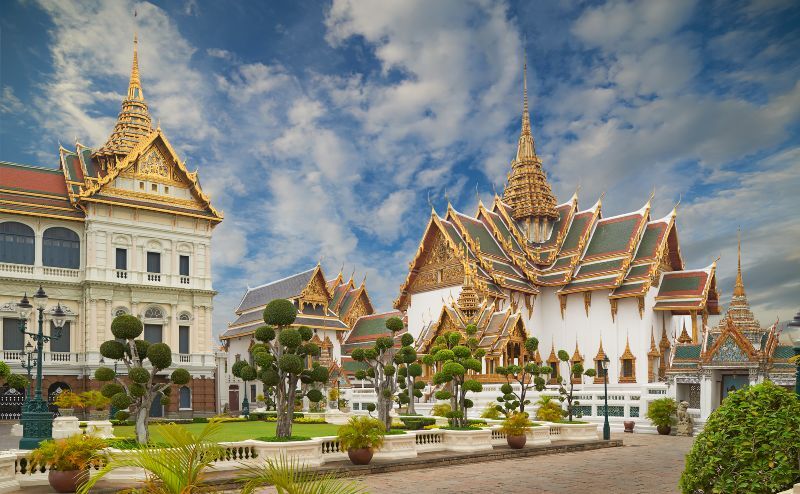 My favourite story on Bangkok scams though comes from a friend, who, as a naïve 20-something got a limo to pick her up from the airport.
As he hurtled along the freeway at about 40 over the speed limit, he gave her a grave warning. 'Don't get in the normal taxis – they carry spare gas in their boot and if another car hits them, they explode.'

Of course, at this point, he then offered to be her personal chauffeur, in his clearly non-exploding car, for the rest of the trip.
To me this sums up Bangkok scams, they're harmless guys chancing their arm – just be aware of it.
Eating in Bangkok for first-timers
Eating all the Thai food you can is probably on your list of things to do in Bangkok, but I admit, until recently, even I was a bit cautious about what I ate and where I ate it.
It's taken time for me to get brave enough to try some of the more local-looking places – and chances are you're going to be equally nervous on your first trip to Bangkok. So….
8. Know Where to Find Good Food
There's a lot of good food in Bangkok, and there's a lot of cheap food in Bangkok, but sometimes it doesn't seem that there's a lot of good, cheap food – particularly in places you might be spending most of your time when in Bangkok for the first time!
Good choices include the Tom Yum at Pe Aor in Ratchathewi and the famous 50-year beef soup at Wattana Panich in Watthana near Ekkamai.
For full details and more suggestions, check out my post on where to find some of the best cheap food in Bangkok here.
9. Ask an expert
If it's your first time in Bangkok and you're a bit nervous about street food or eating locally, I definitely recommend taking a food tour with Bangkok Food Tours. They show you the best places.
They got me over my worries about just walking in somewhere with no English menu and pointing at whatever looks good – the dishes above were from somewhere I tried on the tour, then went back to.
10. Don't fret about chopsticks
Thai food is eaten with a knife and fork.
11. Don't try to find street food on a Monday
The stalls close for cleaning. For the same reason, don't plan a trip to Chinatown on a Monday night, if you want to eat from the tiny stalls that fill the roads there. You'll be disappointed.
12. Take the chance to go gourmet
Bangkok is home to four of the top 10 restaurants in Asia – according to the San Pelligrino Awards.
And the prices are VERY cheap compared to eating at similar quality places elsewhere in the world. Three of the best are Sorn, Raan Jay Fai, and Suhring.
Bangkok nightlife for rookies
Whether it's drinking cold bottles of Chang watching the world go by on Khao San Road, a sophisticated night of cocktails on a rooftop, or a full-on Hangover-esque trawl through the dodgiest bars in Bangkok, you're not going to be lacking for something to do in Bangkok at night,
but like everything else, it pays to know what you're doing so you don't end up with a three-figure bar bill or a tattoo on your face!
13. Know where the girly bars are
And avoid them If this type of thing is going to upset you. Prostitution may be illegal in Thailand, but you'd never believe it in a few areas.
The good news is, it's fairly easy to avoid–don't go to Soi 4 in Sukhumvit or Soi Cowboy near Asok, avoid Soi 1 and 2 or Soi Twilight in Patpong. Job done.
Admittedly, the last time we went, a lot of the bars at the upper end of Soi 4 had closed and other businesses were moving in. There's even an Ibis hotel at that end now.
Rules in the Nightlife areas
Knowing these "rules' will help you navigate Bangkok after dark and find the right place for a great night out.
14. Be Nice
If you are drinking in Nana or Patpong. and are males on your own, yes, the girls will approach you. If you're not interested, just be nice and say no thank you. They're only doing their job.
15. Drinking in Soi 4 for women
If you're a girl drinking in Soi 4, I've found Hilary's bars most friendly. If you don't want to go into an official girly bar, try Hanrahan's Irish Pub.
Personally, I don't go into the bars in Patpong, as I'm not keen on the area, but there are a few outside areas of bars that line the market that give you a good chance to watch the world go by and soak up the atmosphere.
16. Stay Downstairs
If you go to Patpong, don't go upstairs in a ping-pong bar – you're just asking for a few thousand baht bar bill and a large guy standing in the way of your exit until you pay it.
If you want to get an idea of what goes on inside such establishments, take a trip to the fun Patpong Museum instead.
Oh, and know that if you ever play a bar girl at Connect Four, you will lose. They are masters at it. Thankfully, this mistake will only cost you the price of a Lady Drink.
17. Buckets are evil
They sound like a great idea. Lovely, lovely booze that tastes like sweeties for just a few hundred baht. You'll just have one you tell yourself.
You're on holiday you tell yourself. It's your first trip to Bangkok, you want the picture you tell yourself.
You will not drink one. You will think you only drank one and then find pictures of yourself with three different coloured buckets.
You will then spend the whole of the next day with your head on a table thinking you are dying. I can neither confirm nor deny if I know this from personal experience.
18. The 'Hangover Bar' is not the only rooftop bar in Bangkok!
The Sky Bar on the 63rd Floor of the Lebua Tower has become a must-visit for Bangkok first-timers after its appearance in The Hangover.
Yes, it's incredible – but it's also very busy because of it. It is a first-time in Bangkok rite of passage – and, if it's on your list you must go (checking the dress code first).
You won't believe how high it is when you're up there with barely any safety barriers!

But, if you don't like crowded places, want somewhere you'll feel as comfortable ordering a beer as a cocktail, or just want to do something different, here are a few other bars with views you might want to check out – most of them have a slightly less formal feel than Sky Bar.
All of these are clearly marked on google maps.
19. Khao San Road.
It is What it Is! And what it is, is a melting pot of the world's backpackers – which basically means that come 10 pm it looks like your local High Street on a Saturday night… No matter where you're from!
It's fun, the beer is cheap, find the right venue and you'll have a blast – but don't expect a cultural experience.
Oh and no matter how good an idea it seems at the time, you do not need a frog that croaks when you rub a wooden stick over its back.
If you do become tired of the ladies selling you frogs, the accents you hear back home or just the backpacker-ness of it all and want a change of scenery without going far, try Soi Rambutri which is still cheap and cheerful but less rowdy, take a walk up Phra Sumen to the more local Pat Bar.
Or, walk up to Samsen Road which is lined with small bars like Adhere the 13th Blues Bar or Post..
20. There are cool bits of Bangkok
I've just talked about the line of bars on Samsen Road in which you'll find some Thai hipsters hanging out, but there are a few other areas to try if you want to search out Bangkok's next cool thing.
Charoen Krung Road, slightly southeast of Talad Noi is Bangkok's newest hipster area with coffee shops, art galleries, restaurants, and a few bars springing up. Search for Tropic City and Jua on google maps.
Also, check out the more established group of trendy bars in Chinatown on a road called Soi Nana. Look for Tep bar or Teens of Thailand on google maps.
21. Visit a night market
Night markets are also another cool thing to do in Bangkok – no, not the touristy ones selling you knock-off Rolexes and Same Same t-shirts, but those that combine selling vintage goods with pop-up bars and restaurants or food trucks.
Check out JJ Green near Mo Chit BTS station or Talad Rot Fai at Ratchada (metro: Thailand Cultural Centre). Both markets run Thur- Sun from 6 pm.
Getting around Bangkok as a first timer
Getting around Bangkok can be a bit tiring – traffic is pretty bad and a lot of places you want to go as a first-time visitor don't seem to be immediately accessible by any obvious transportation. It takes a while to get your head around it all.
This should help…
Basically, there are four main ways you'll be likely to get around during your first time in Bangkok – taxi, BTS Skytrain – an elevated train that goes to many popular tourist destinations – the Metro and the Chao Praya river boats which go up and down the main river that runs through the city.

But I'd also suggest you explore by the smaller canal boats, tuk-tuks and on foot.
You can also get motorbike taxis and the bus – but I'm not sure they are best for first-timers.

A few things to note though include:
22. The Airport Train may not go where you're staying
At 45 baht a trip (rather than 300-400 for a taxi) the Airport Train to the city can save you cash, but be aware – it only takes you to Phetchaburi or the Phaya Thai Metro station where you'll need to swap lines to the Metro or BTS which can be a bind if you've got a lot of luggage – and if you're staying at Khao San Road, you'll still need a taxi.
Not to mention that the BTS gets very full at certain points and getting out of it with luggage could be tricky.
If you want to avoid long taxi trips just jump off the train at whichever stop is closest to your hotel and grab a taxi there.
23. Buy a Rabbit Card
Like the Sydney Opal card or the London Oyster card, this preloaded card lets you pay for your journeys on the BTS Skytrain without having to fumble for cash.
You can also use it in Family Mart, Subway, McDonald's, and a heap of other stores to pay for purchases.
24. Bring your passport
They now ask all tourists to show their passport when registering their Rabbit card for the first time, or filling up an old one, so make sure you have it with you.
25. Tuk Tuks are fun
There's nothing like blasting through the Bangkok traffic in one – especially late at night when they can go fast enough to blast.
However, they are not the cheapest way to get about if you're a foreigner. Know that, barter the fare down a bit to pay what you think the experience is worth for you – then just enjoy it
26. Be careful of taxis
Catching taxis can be the one time where even I hate Bangkok! You get in the taxi – and they refuse to put the meter on.
I've even got staff in the hotel to get a taxi, have them put the meter on as they leave, then get around the corner and turn it off, demanding a flat fee way higher than what I'm supposed to be paying.
It's a better plan to use the BTS Skytrain service to get as far as you can out of the area in the direction you need to go – and then get a cab.
What I have learned though is that this is far more likely to happen in the area around Sukhumvit where the traffic is appalling and it can easily take 40-50 minutes for a short journey.
If it happens, remember that you're often still only paying a few pounds or dollars over the odds and sometimes, it's just not worth worrying about.
Elsewhere in Bangkok, the drivers have been fine and I've never had a problem with a taxi leaving from the official queue at the airport.
27. Get some small notes as soon as you arrive
There are two tolls on the road from the airport into Bangkok and the driver will ask you to pay them, that's normal, but it's handy if you have a small note to do so.
There's also a 50 baht airport fee that's added, again, totally normal.
28. Download Grab
This app is like Uber and it makes getting around Bangkok in a taxi far less stressful, as the driver always knows where you're going and the fare is fixed.
It can get busy and you might need to wait so allow a little extra time if you're going to use it.
29. Don't forget the boats
Bangkok has a series of canals running through it – and, if you're trying to get from say, Khao San Road to Siam, it's a lot easier to jump on one of the San Saeb Canal boats than try and get there by the BTS.
You can also get the boat along the main Bangkok river, the Chao Praya which can come in very handy.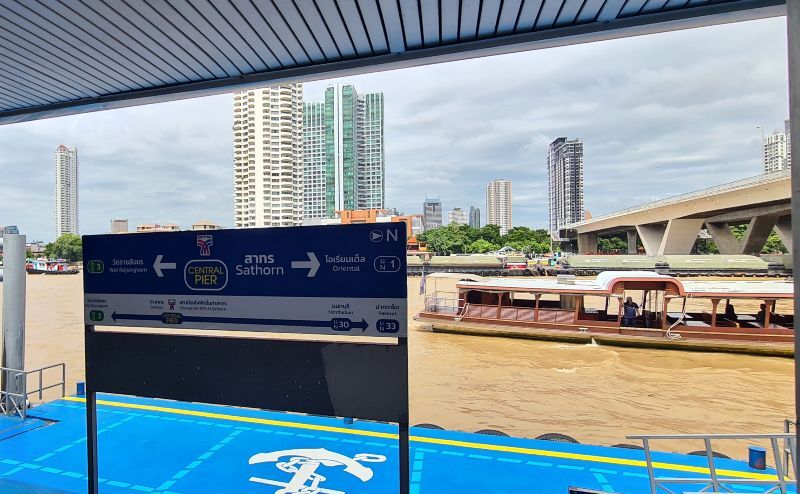 This is great for getting to Khao San Road from Sukhumvit – take the BTS to Saphan Taksin, find Sathorn Pier, jump on the boat, and get off at Phra Arthit a short walk away.
Ditto the easiest way to get to the Grand Palace from Sukhumvit is to get the riverboat up to Ta Chang from Sathorn Pier.
Note: The Chao Praya boats don't run at night, they are for day trips only.
30. Get on the right boat on the Chao Praya
If you decide to take the boat up the river, when you get to Sathorn pier, you will be greeted by a mass of humanity – all looking completely confused as to what boat to get.
The main two boats you'll probably need to know about your first time in Bangkok are the Tourist Boat.
This has a blue flag and costs 60 baht to take you to where you want to go – or 200 baht for a day pass.
The guides speak English and will be a bit more forgiving about waiting at the pier for you to get off.
They only stop where people want to get off so if you hear the name of your pier called, yell out – or it'll whizz past. The downside is it only runs every half an hour.
The Regular Boats: This costs 16 baht to go to the same places as the Tourist Boat. This has an orange flag. If there's no ticket seller on the pier on which you board, or you didn't get a chance to buy one, you can just pay the conductor on the boat.
It can be a bit frantic and you need to be ready to get out at your stop – they don't hang around.

There are also regular boats with no flags, boats with yellow flags, and boats with green flags that run at different times of day and stop at different piers.
Note. You can't get on any of the regular boats with the 200-baht pass. I've seen a lot of tourists look very grumpy when they have to pay again.
I'm inherently tight when it comes to these boats so will always get the cheap boat – in reality, you're quibbling over about 35 baht so get on whichever comes in first!
Read our detailed public transport guide here

31. Walking is the best way to see stuff
But man it's hot. Wear sunscreen, carry water (there's always a 7-11 or Family Mart close by to buy some), and walk slowly so you don't
overheat.
Where to Stay in Bangkok your First Time
When you're visiting Bangkok for the first time you do not want to stay in the middle of nowhere. You'll spend your whole day travelling.
You want to be somewhere close to the sights you most want to see – or with easy access to transportation. So,
32. Choose Your Area Well
And for a first-time Bangkok visitor, I'd suggest you stick to:
Sukhumvit
Located around the BTS stations of Nana and Asok, Sukhumvit is lined with big hotels and while it doesn't have any attractions per se (unless you're into the girly bar thing) the fact that the BTS Skytrain runs right down the middle of it makes it easy to get around.
You won't have any problems finding hotels in this area – plus Bangkok has some of the cheapest hotel prices in the world for the quality of the rooms you get. You'll find you can often book a suite for the price of a budget room in London!

A good choice is the Fraser Suites. We stayed here on one trip, and the room was possibly larger than my house.
Top tip if you do stay here, use the little Tuk Tuk to the station – it will save your legs from a lot of steps. Another popular choice is Grande Centre Point Terminal 21.
Chitlom to Siam
This is the other end of Sukhumvit Road and where I stayed for my first time in Bangkok. It's again, brilliant for transport and amazing if you want to shop.
Personally, I would recommend the Amari Watergate. It's set a bit back from the main area but is only a short walk to all the shopping malls.
If you can, spring for an executive club room which gives you access to your own private rooftop bar. Sitting here after a day of madness and watching the sunset with a (free) glass of fizz was absolutely fantastic.

On my first trip to Bangkok, I stayed at the Holiday Inn Bangkok which is even closer to the shops. I haven't been there for a long time, but it's still there and still gets great reviews!
MBK Shopping Centre
This is a super convenient place to stay because even though there's not a lot around her (apart from the mall) you are smack bang in the middle of everywhere you want to go by public transport.
There's even a hotel on top called the Panthumwan Princess which is fantastic – and has one of the best pools I've found in Bangkok so far.
Khao San Road
If you want to spend most of your time around the main sights of the Grand Palace, Wat Pho, and Wat Arun, it's probably the best area to stay for sightseeing as you can walk to the main sights in about 20 minutes.

The road itself is crammed with more ridiculously cheap hotels than you can shake a stick at but if you aren't on a backpacker budget, look at the Casa Nithra which is a little bit off Khao San itself, but my normal place to stay on this side of the city.
Or, if you're lucky enough to get a room, try the Riva Surya. It's always been full when I've tried to go.
The Riverfront
There's a crop of boutique hotels around the riverfront by the Grand Palace itself – very convenient, but the influx of daily tourists might drive you a bit mad.
Have a look at Sala Rattanakosin (yes of the bar I mentioned above) or Riva Arun.
There are also 5-star hotels all along the river and the Millennium Hilton Bangkok is right next to ICONSIAM for serious shoppers.
Silom
The business district is lined with office blocks and glitzy five-star hotels – rubbing shoulders with the madness that is Patpong.
I have never stayed here personally, but you'll be unlikely to go far wrong with established names like the Banyan Tree or The Sukhothai.
Other Useful Advice When Visiting Bangkok for the First Time
Hopefully, all the above will mean you have an awesome time on your first trip to Bangkok and come away loving it not hating it – but just before you go off to plan heaps of cool stuff, there are just a final few things that might smooth things out for you.
33. Don't drink the water
Don't even brush your teeth in the water. Most hotels offer bottled water or pick it up from the
7-11. There will be one close to your hotel – they are everywhere.
34. Avoid food poisoning
Use all the normal sensible advice on eating to avoid food poisoning.
35. Take Probiotics before your trip
If you can buy them where you live, take Bimuno Travelaid Pastilles before you leave. They are prebiotic pastilles that feed the gut bugs that fight off tummy troubles.
I swear by these and have literally eaten off the same plate as my partner when using them and he's got sick and I haven't.
36. Buy a SIM card or esim
Bangkok is enormous and if you want to walk anywhere you're going to need maps.
37. Carry ID with you.
It's a legal requirement, and we have been stopped and asked for it before
38. Pack a top that covers your shoulders and skirt or trousers that cover your ankles.
You'll need it if you're going to go into any of the main temples, the new Giant Buddha at Wat Paknam or the Grand Palace. The Grand Palace dress code is particularly strict.
As well as the above (and a scarf to cover your shoulders won't cut it), you can't wear anything tight-fitting, anything see-through, anything that shows your middle, back, or cleavage, or anything ripped. It's also best to wear closed-toe shoes.
39. You might see ++ on a restaurant or hotel bill.
This means that your bill will come with a 10% added service charge plus local taxes (around 7%). If a bill says "nett," then these are included already.
40. Carry plenty of small banknotes.
If you have a large Thai banknote, go to 7-11 and buy a drink to break it – they always have change.
41. Stop looking for anyone carrying a pig on a motorbike
That's Vietnam (I know I was disappointed too). There are a lot of dogs on scooters though!
42. You will at one point during your trip get the song One Night in Bangkok stuck in your head.
I can't help you with that one! You can listen to it here.
Keep Planning Your Trip to Thailand
About the Author: Helen Foster is a freelance journalist and author based in Sydney. Her travel articles have appeared in publications including The Australian, Jetstar Magazine, and RAC Horizons. She has taken more than ten trips to Thailand.