The Chao Phraya Tourist Boat: Sightseeing tips for every stop [2023]
Riding the Chao Phraya Tourist Boat is one of the best ways to chase away your jetlag and get an overview of the city of Bangkok. It's also a great way to reach some of the city's best attractions. Thing is, if you are a first-time visitor to Bangkok and not sure of the lay of the land it's hard to make best use of this Bangkok Tourist boat, but don't worry, we have you covered!
Note: This guide was based on the route operating at the beginning of 2023. In previous years, the hop off boat ran for longer hours and stopped at different piers, but things changed significantly when it restarted after the pandemic. It may also change from time to time because of the renovations currently being undertaken at over 20 piers along the river this year.
This article contains affiliate links. Please see our full disclosure policy here.
Snaking through the centre of Bangkok the Chao Phraya twists and turns past some of Bangkok's most iconic buildings. Using the hop on hop off tourist boats to explore the city has many benefits over the public express boats:
You avoid the notorious city traffic
You don't have to negotiate with tuk-tuk drivers
There is usually a cool breeze out on the water
Many landmarks are within a few minutes' walk of the stops
The ticket price is wallet friendly
It only stops at piers that have attractions tourist will be interested in
The boats, usually catamarans, offer a smoother ride
They are easier to board especially for those with small kids, prams, the elderly and wheelchair users
It's operated by a team of friendly staff happy to help suggest stops to suit your interests.
There is English and Thai commentary, so you learn more about the city as you go.
I think the number one reason to choose the tourist boat over the local express boats is that the huge open top deck and smooth ride provides the perfect conditions for taking photos.
How does the Chao Phraya Hop on Hop off ferry work?
With 5 spacious double decker boats serving 11 piers, the Chao Phraya HOHO offers two types of tickets: a full day regular hop on hop off service and a ticket allowing you to ride one length of the tour or to jump off at any of the point-to-point stops.
This wheelchair accessible service runs from Sathon Pier, also known as Central Pier, to Phra Arthit Pier near Khao San Road. It offers regular 10 stops plus late afternoon stops at Asiatique.
How much does Chao Phraya Tourist Boat cost?
If you are starting at Sathorn Pier, it's easy to get confused by the different ticket sellers. Just look for signs that say Chao Phraya tourist boat. If you are worried about this, you can pre-purchase your ticket.
There are plenty of options for buying your tourist boat ticket in Bangkok. It depends on what suits you. You can pick it up at any of the following places:
When you get your ticket or exchange your booking voucher, they give you a brochure which shows all the stops on a map and gives some basic information on what to see at each. It's very general, but it helps you orientate yourself.
There are two types of tickets available:
A single ride without hopping off will cost you 30TBH
A day pass costs 150TBH and is valid from 8.30am to 7.15pm (operating times vary – this is current as of Jan 23).
Note: If you just want to go to one place, then it is cheaper to ride the regular express boat.
Where does the Chao Phraya tourist boat stop?
There are currently 11 official stops, but one is closed for renovations and one only opens in the late afternoon, leaving 9 for you to visit with your day pass.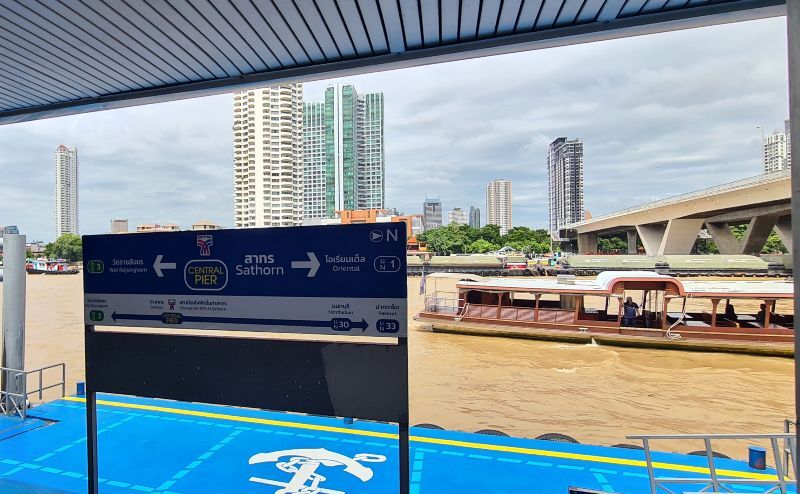 The stops that are open as of 30/12/22 include:
Asiatique (first stop 4:10pm)
Sathorn Pier (BTS Taksin)
IconSiam Pier
N5 Ratchawongse Pier
Wat Arun Pier
Rajini Pier
N9 Tha Chang pier
Tha Maharaj Pier
N11 Prannok Pier
N13 Phra Arthit Pier
With all these stops to choose from, it's hard to know which places to get off and explore. It can also be hard to tell from the riverfront what's hiding in the streets behind. Therefore, we think to make the most of your time on the tourist boat you should plan your day a little.
For those who like an early start, the first boat leaves from Phra Athit Road at 8.30am or from Sathon at 9am
So first let's look at what there is to see at each stop and how far the places are from the piers. If you prefer, you can choose from this list to plan your own day according to your interests.
Chao Phraya Stops & recommended attractions
Unless you are short of time, we highly recommend you purchase a day pass and allow at least half a day to make the most of your ticket. You could easily spend the whole day riding the boat and doing the walks we recommend below. Click on any of the maps to open them in Google maps and save them to your device.
Sathorn Pier- aka Central Pier
There are not so many well-known sites around Sathorn Pier, however if you are a lover of street art and fun bars there are a few spots you might want to check out
Sathon Canal Art – not to be confused with the Ong Ang Canal art this is a much less well-known spot that features the work of both local and international graffiti artists. With 900m of walls to see, it's worth the short walk from the pier for art lovers.
Bars – At opposite ends of the spectrum are two bars that we think you might enjoy. The legendary and infamous Lebua Sky Bar and the very local and much loved by those who have visited Jack's Bar. These two spots could not be any further apart on both budget and decor, but they both offer superb views! Jacks opens at 11am and Sky Bar at 5pm.
Ratchawongse- Chinatown
It is easy to spend a couple of hours exploring the sites around Rachanwongse Pier. This is a great stop for the early afternoon or as your last stop if you plan to have dinner in the area.
Chinatown Gate – at Odeon traffic circle, this gate marks the beginning of Chinatown, which stretches 1.5km along Yaowarat Road.
Yaowarat Road – the beating heart of Chinatown is filled with street vendors, gold shops and traffic! Best seen in the early morning when locals are grabbing breakfast before you start your day cruising or after 4pm.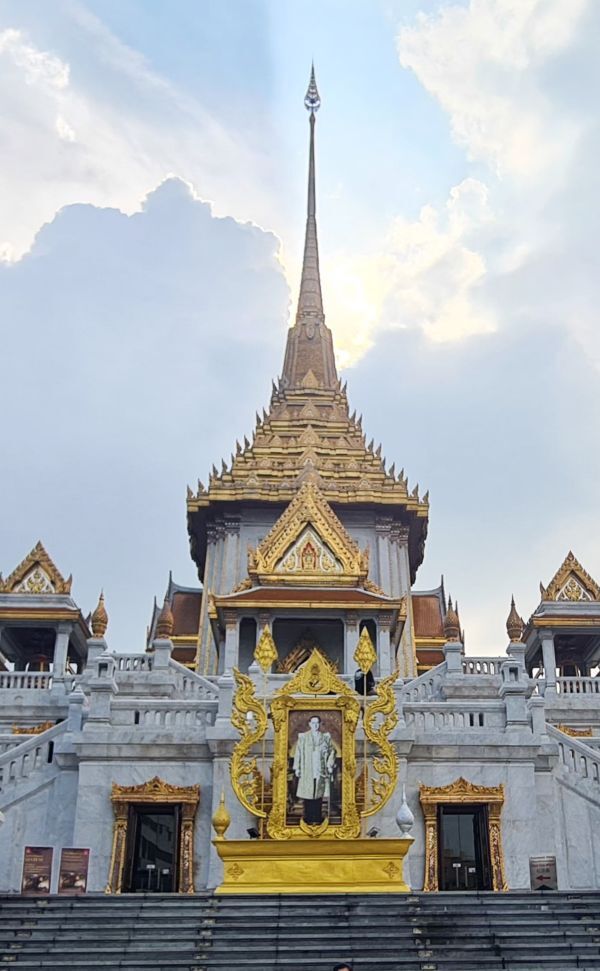 Wat Traimit Temple – Home of the world's most valuable pure gold Buddha. Thought to date back to the late 1700s, it was discovered in Ayutthaya covered in clay – probably the reason it has survived so long.
Chinatown Heritage Museum – Learn about the migration of the Chinese to Thailand and how Yaowarat became their home.
Street art mural by Belgian artist ROA – You can see this mural of two elephants from the boat but also walk past on your way to Chinatown from the pier.
Sampeng Market – just 600m from the stop this market is very popular with locals. It has everything you can imagine and more. It's open all day from 7am till late afternoon.
You could cover all these spots on foot on an easy 3km round trip. Follow this map and allow 2 hours if you plan on visiting inside any of the site – 60 minutes just for the stroll.
ICONSIAM
A finalist in the World's Best Shopping Centre awards ICONSIAM is no ordinary shopping centre. For a start, it's huge, with over 7000 shops and 100 restaurants across eight floors.
From the floating market food stalls to high-end luxury goods and international brand name stores, there is enough here to keep a shopper happy for an entire day. Even if you don't like shopping all that much, it's an impressive complex.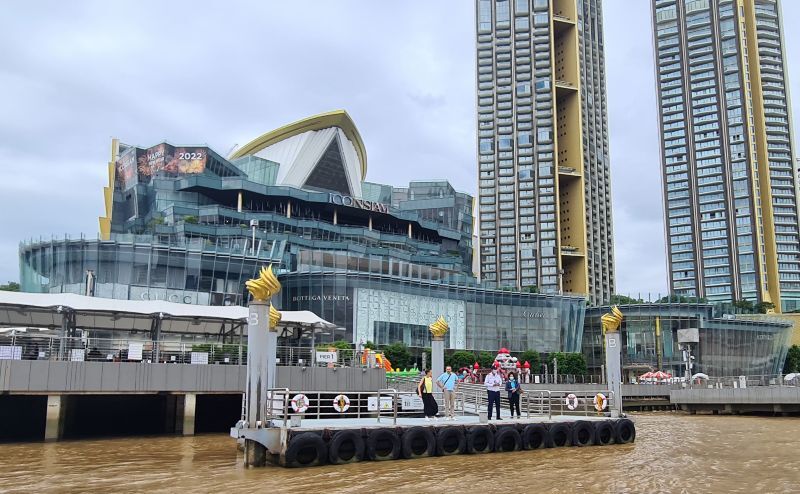 Inside ICONSIAM are dining options for any budget and taste ranging from street food, celebrity chef restaurants like Blue by Alain Ducasse and local 3 Michelin Star winners. There is a rooftop Starbucks with fantastic views and a free evening light and sound fountain show.
There is not a huge amount to see surrounding ICONSIAM and personally I would probably leave this for today and take the free boat on another day. Alternatively, finish the day here and stay for dinner.
Two sites you may choose to visit nearby are the Jam Factory and a waterfront bar/ restaurant called Be My Guest
Rajini Pier
This pier reopened in Jan 2023 after a huge renovation. The new floating dock they have installed makes this stop wheelchair accessible and is a good sign for things to come across the rest of the Bangkok ferry system.
From Rajini Pier is also only 50 meters from the Sanam Chai MRT Station, so if you are staying nearing an MRT stop in Bangkok this could be the best place to begin your HOHO journey.
This is the best stop to choose if you want to visit the Pak Khlong Talat flower market or the Museum of Siam (closed Monday).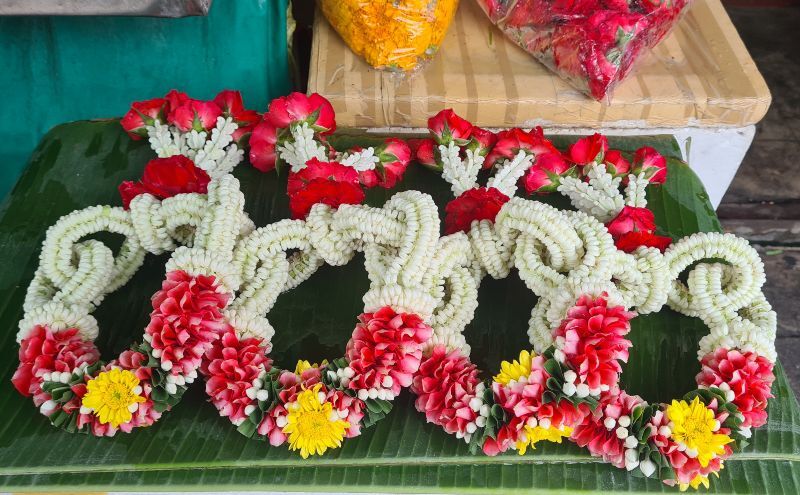 There is a small ferry service that stops at the next pier, At Sadang Pier, that will take you across the river to the famous Santa Cruz Portuguese Catholic church. Note the church is not always open so check before you visit.
This is also a smart ferry stop so you can jump on one of these if you miss the HOHO boat and don't want to wait for the next one. Tickets are only 20TBH.
Wat Arun
Wat Arun, the Temple of Dawn, is one of the best known sites in Bangkok. Its 70m Khmer-style tower or prang is visible across the city and is especially beautiful at night or in the very early morning.
Decorated in stunning glass and porcelain mosaics, you can climb the steep steps and look out over the city or just pose for photos like most visitors. Along with the tower are a couple of other buildings you can explore, including the ordination hall with its golden buddha.
The gardens are quite beautiful with bonsai and topiary. You can also choose to dress up in traditional clothes and take photos around the temple and the gardens.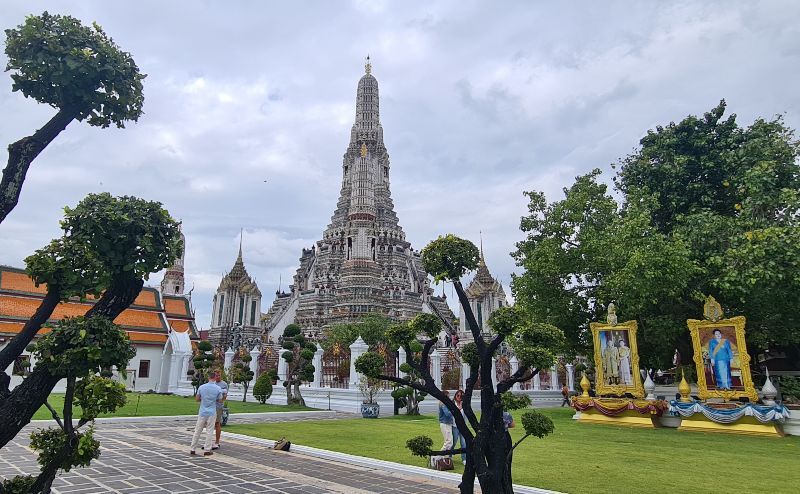 The dress code is strictly enforced, so be sure to cover your shoulders and knees. Leggings are not accepted either.
The full name of this stunning temple is Wat Arun Ratchawararam Ratchawaramahawihan
I would make this my first stop of the day and allow just 30 minutes – there is not enough to do for one hour unless you are very interested in temples, so try not to miss the next boat. The benefit of visiting early is climbing the steep stairs before the heat sets in! The temple opens at 8am and closes at 6pm.
Tha Tien Pier
While this wharf is under renovation, you can reach Wat Pho (The reclining Buddha) which is its key attraction by walking from Tha Chang the next stop, the walk will take you about 10 mins (850m).
Tha Chang Pier
This is the stop for the Grand Palace and Wat Phra Kaew (Temple of the Emerald Buddha). An additional site you might like to add to your itinerary is the Queen Sirikit Museum of textiles.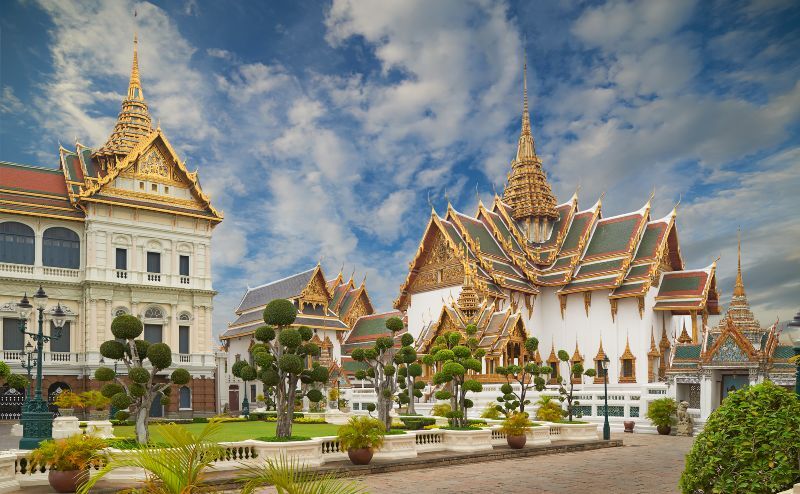 I recommend you make this your first or second stop – it's an enormous site and in the heat of the middle of the day can be quite overwhelming. It also closes at 3:30pm, so the afternoons get really busy. Allow at least an hour – and much longer if you have a special interest in temples and Buddhism.
Visiting the Grand Palace can be a stressful experience. There are scammers and touts trying to get your attention and perhaps give you false information (the palace is closed or you must have a guide to enter). It pays to do a little reading or research before you get there.
One way to avoid much of the drama is to pre purchase your tickets. Tickets are 500tbh and you can pay with cash or card.
Tha Maharaj Pier
Home of a riverside shopping centre and plenty of restaurants, Tha Maharaj Pier is another good choice for when you are hungry. Head up to the second floor for good views out over the river.
Also only 10 minutes walk way is the National Museum. It's opened Wednesday to Sunday from 9am-4pm and entry is approx 200TBH for foreigners.
Prannok Pier
Not an essential stop and if you only have a day or this is your first time I would stay on the boat as you have plenty to see. If you have visited Bangkok before and want to see something very local then jump off for an hour.

Previously known as Wang Lang Pier this stop has 3 areas of interest for visitors to Bangkok
Jump off here for Wang Lang Market only 300m from the pier. Wang Lang is a wet and dry market popular with staff from the nearby hospital, and for good reason, there is some really great food here. Not set up for tourists, this is an everyday market. Visit between 10 and noon 2-3 if you can. Lunchtime crowds can be hectic!
Another popular spot for second time visitors perhaps is the Siriraj Medical Museum
An interesting temple in this area is Wat Rakhang Kositaram Woramahawihan (500m) or the Temple of Five Bells.
Phra Arthit Pier
With tree-lined streets, trendy boutiques and cafes and only 10 mins or 800m to Khao San Road Phra Arthit is another popular stop.

Best visited in the afternoon or evening when activity picks up. This is another good stop to finish on with plenty of nightlife nearby.
Two key sites within walking distance are:
National Art Gallery (600m)
Wat Saket Golden Mount Temple
Other place you might like to check out, especially if you are a repeat visitor and have seen the main sites include:
Santiphap Park – Santiphap translates as peace and this park features a dove sculpture based on a drawing by Pablo Picasso near its central pond.
Phra Sumen Fort – one of the original forts that guarded the old city.
Banglamphu clothing market – a popular market with locals
If you are up for a bigger walk you can jump off at Ratchawong (Chinatown) and see those sites then walk along Ong Ang and past the famous restaurant Jay Fai (book if you want to eat here) then visit the Golden Mount Temple before making your way back to Phra Athit to rejoin the ferry.
A one day itinerary using the Bangkok HOHO Boat.
After using the Chao Phraya Tourist boat several times when visiting Bangkok and we think this itinerary works well for first-time visitors to the city.
1. We suggest you begin at Sathaon Pier, if you are coming via BTS from other parts of the city. If you are staying nearer to another stop, obviously start there! Ride to Tha Chang Pier to visit the Grand Palace and Temple of the Emerald Buddha before it gets too hot.
2. Follow this by returning to the boat and heading to Wat Arun. Allow 30 minutes to view the site or an hour if you plan on renting a traditional outfit for a photo shoot.
3. You are likely thinking about food by now. A Thai person certainly would be 😉

Decide which stop you would like to have lunch at.
Icon Siam might appeal if the weather is not ideal, or the heat is getting to you. Their famous floating market food court on the ground floor or one of the many the restaurants on the upper floors makes a great place to take a break.
Sathorn works too. If you want a more local experience. Head to Jacks Bar, which is right on the riverfront. Alternatively, check out the food court at Robertson's Department store near the pier. After lunch, you could wander past the Sathorn Canal murals a short walk away.
Finally, Tha Maharaj offers waterfront dining with river views.
4. For your final bit of exploring today of the day pick one of the following – or perhaps both if you have made good time.
After lunch you might like to visit the Flower Market from Rajini Pier
Still got plenty in the tank? We recommend you get off the ferry at Phra Athit and take our suggested walk to Chinatown stopping at the Golden Mount Temple and Ong Ang Canal along the way.
5. This itinerary will see you out of time or energy by 5pm just when Chinatown comes alive. If you have already visited Chinatown jump back on the ferry and head to Asiatique for the night market and plenty more food!
Tips for riding the tourist HOHO boat in Bangkok
If you miss your ferry, don't feel you need to wait 30 minutes for the next one.
Ride the top deck early in the morning and take your river photos before the midday heat hits. Also, by later in the day, the boat is back to being busy since visitor numbers to Bangkok have risen again.
The boat stops at all piers but not for long, so be ready on the lower level to exit before you reach the stop you need.
Don't try to do all the suggested walks above in one day. Just pick a couple that grab your interest and allow time to really enjoy them rather than rushing about trying to see it all.
We hope this helps you plan a really fun day out using the Chao Phraya Tourist Boat to explore more of Bangkok.