5 Phuket Waterfalls: Which ones should you visit?
Although Phuket waterfalls are not as spectacular as those of Chiang Mai, there are some picturesque waterfalls tucked away in its jungles that make a lovely change from the beach.
After a couple of days topping up the tan on Phuket's stunning beaches, you may decide it's time to spend some time in a cooler environment, at least for a few hours. Why not head to one of these waterfalls for a dose of nature with a bit more shade?
A stroll through the lush jungle paths that lead to these beautiful waterfalls can offer some respite from the sun, and at some waterfalls there are also small pools at the bottom, perfect for cooling down even further.
Aside from an escape from the full force of the sun's rays, the waterfalls are also a great way to immerse yourself in nature, and you may even have a few memorable wildlife encounters along the way.
Reaching the waterfalls will require a short trek along a jungle path, so dress appropriately – maybe flip-flops are not the best choice of footwear!
Wear good shoes: walking shoes or sturdy trainers will be needed to tackle the often rocky and sometimes slippery paths that lead to most of the waterfalls.
And bring some drinking water – not all the waterfalls have restaurants or shops nearby.
Bang Pae Waterfall
If you're only going to visit one waterfall, Bang Pae is the most breath-taking of the Phuket waterfalls. Standing at ten meters tall and situated inside Khao Phra Thaeo National Park in the north-east of Phuket, Bang Pae waterfall is a perennial favorite.
You can visit this waterfall any time of the year, and there will be water flowing. The amount of water cascading down the falls will dwindle slightly towards the end of the dry season, and conversely, the waterfall will be at its most impressive after some rainfall.
If you are in Phuket during the rainy season, the months of May through September would be a great time to visit Bang Pae.
As Bang Pae waterfall is within a national park, there is a small entrance fee of 200 baht, but it is worth it. The local Thai population enjoys heading here for a picnic and a dip in the cool pools too, so it can be a little busier at the weekend.
If nature floats your boat, then you can combine a trip to Bang Pae with a visit to the Gibbon Rehabilitation Project a short drive away from the waterfall, and right by the next waterfall on our list. If you have traveled up from the south of Phuket, why not stop by and support this conservation project?
Ton Sai Waterfall
Not too far from Bang Pae Waterfall, you can find Ton Sai Waterfall, it's on the opposite hill to the Khao Phra Thaeo mountain. This is the second largest waterfall on Phuket Island.
This makes Ton Sai a great way to get two waterfalls for the price of one! As both waterfalls are in the same national park (Khao Phra Thaeo National Park), you will only pay one 200-baht entry fee and gain access to the park for the rest of that day.
For the more adventurous, there is a well-signed 2-kilometre track through the jungle between these two waterfalls.
Ton Sai Waterfall itself is also an impressive waterfall. Being wider and not as high as Bang Pae Waterfall, Ton Sai offers some excellent photography opportunities, too. Set your camera on a tripod and lower the shutter speed to get that perfect waterfall shot with milky tones to the water.
Tonsai is popular with birdwatchers, with a chance to spot lots of colourful species.
There are a couple of small restaurants at the entrance, so if you are planning a full day of exploring, this could be a good spot to refuel the body after taking in the waterfall. The locals often head to Tonsai on weekends, so a weekday visit is best.
Ton Ao Yon Waterfall
If you are staying towards the south of Phuket Island, a closer waterfall option for you could be Ton Ao Yon waterfall, on Cape Panwa. This less-visited waterfall is easier to get to than Bang Pae and Ton Sai waterfalls, but it is also less crowded.
The falls themselves are less impressive than their cousins in the Khao Phra Thaeo National Park, but the tranquil setting and off-the-beaten-track feel of these falls make up for that. They are best visited after some rainy days.
Getting to the falls can be a little trickier—you have to keep your eyes peeled for the subtle roadside signs on the way here.
Ton Ao Yon Waterfall is more of a series of several drop pools, with small waterfalls linking them together. The best time to visit this waterfall is during the peak rainy season – May through September. Towards the end of the dry season, there can be very little water flowing here, as Phuket has normally just endured a couple of months with no, or very little, rain falling. An added advantage of Ton Ao Yon is that it is not in a national park, so there is no entrance fee.
Ton Ao Yon waterfall can be combined with a trip to Phuket town if you are staying in the north of Phuket.
Kathu Waterfall
If you are in Phuket in the raining season, and wand to see the best waterfall on the island, visit Kathu waterfall. The location is more convenient than many of the others, as it's the closest on this list to Patong, Phuket's main tourist hub.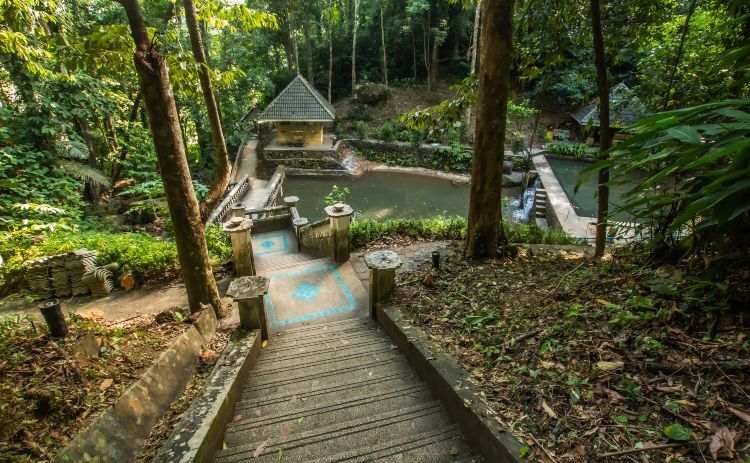 With no entry fee and a few levels to explore, Kathu Waterfall is a great option for a morning or afternoon excursion.
Kathu Waterfall is divided into two sections. If you head to the left from the parking, you may feel a little short-changed. The area to the left is more of an inclined stream with a natural swimming/bathing pool. This is a great option for a quick dip if you are exploring with children.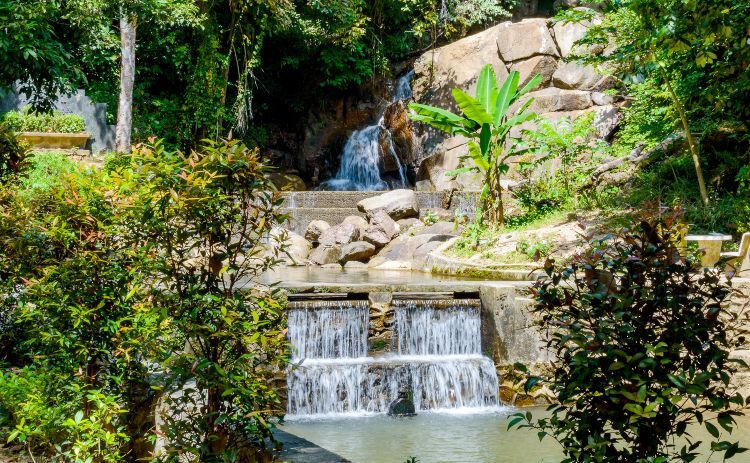 If you head to the right, this is where you will find the major attraction. Follow the path past the small bridge and up the shaded staircase to find the main falls.
These falls are also a series of drops and pools, with a larger pool at the top. These drop pools are very inviting if you have tackled the stairs in the midday heat.
Bang Wan Waterfall
Bang Wan Waterfall is also in an easy-to-reach area of Phuket – Kamala. It's the next beach north of Patong. Kamala itself is a great area to stay in Phuket if you are looking for something a bit less fast-paced than Patong.
The waterfall here is perhaps less impressive than the others mentioned above, but the accessibility and the lack of crowds and entrance fees make it a great spot for a short hike up into the hills behind Kamala.
If you are staying in Kamala, Bang Wan Waterfall may even be within walking distance of your hotel.
There is no swimming allowed at this waterfall, as the first natural pool can get a little deep during the rainy season.
This first pool is very easy to reach; it's only a short walk from the end of the road. To the left of this first pool and fall is a track that heads up the hills to a second pool and fall. This track can be a little steep in certain places, but it's an easy hike up.
Again, wear the appropriate footwear to mitigate the chance of a slip, especially during the wetter times of the year.
All-in-all, visiting the waterfalls in Phuket is a great way to immerse yourself in Phuket's exotic flora and fauna. Dress appropriately for the conditions, charge your phones/cameras, and have a great day exploring away from the hustle and bustle of the busy beaches.
If you are having difficulty locating any of these impressive waterfalls, use the Thai word for waterfall – namtok – and a friendly local will be more than happy to point you in the right direction.
We hope you enjoy discovering some of these waterfalls in Phuket, while they may not be the most impressive waterfalls in Thailand, they are a lovely contrast to days at the beach and the exercise is a great tonic for all the delicious food in Phuket! As you may expect, the best time to visit any of these waterfalls is in the rainy season.
About the author: Richard (Rich) Reardon is a freelance writer and scuba diving instructor from England and now lives in Southern Thailand. "I have spent the last twenty years travelling and working throughout South East Asia. For around half of that time, I've been based in Thailand. Thailand stole my heart, and I hope my writing will encourage you to find out why!"