How to get from Krabi to Koh Samui in 2023
If you're looking to travel from Krabi to Koh Samui, you will need to traverse the Malay Peninsula and cross from the west coast to its east coast of southern Thailand. As much as this sounds like an epic adventure, in reality, it's quite a short and simple exercise.
Our local expert Rich, has shared everything he knows about making this journey so yours can be as painless as possible.
This page contains affiliate links. You can find our disclosure here.
At its narrowest point, the distance between the two coasts is a mere fifty kilometers. This narrow section is known as the Kra Isthmus, but to get to Samui Island, you will need to cross a little farther south than this, where the peninsula is wider – starting at Krabi Town.
Krabi Province has long been a favorite amongst travelers to Thailand. With delightful destinations such as Phi Phi Island, Railay, Koh Lanta, and Ao Nang all within easy reach of one another, it's easy to see why.
If you have been visiting any of these places, and are now looking to head east to the beaches of Koh Samui in the Chumphon Archipelago, let's have a look at the transport options available to you.
Krabi Town
Krabi Town is the main administrative hub for Krabi Province, and most likely, you will either start your journey here or pass through en route. If you are already in town, it's easy. If not, then it's still easy, but you may want to travel to Krabi Town a day in advance to break up your travel times a little.
Travel by Minivan and Ferry
Perhaps the most common way to travel across to the east coast is in the ubiquitous tourist minivan, coupled with a ferry ride.
The vast minivan network is always an option.
How to book your minivan bus and ferry trip
To book your minivan to Koh Samui, you can have a chat with any of the small travel and tour agencies found along the roadside in any of the major tourist destinations within Thailand to buy tickets.
Alternatively, you can book tickets in advance. We recommend 12Go.com who list the largest range of transport options in Asia.
Most point-to-point minivan and ferry tickets will usually include a pick-up directly from your hotel, so there's no need to traipse across town with your luggage or pay for a taxis.
Koh Samui is Thailand's second largest island, so having a booking that takes you all the way to your hotel is the most convenient option, rather than being left to your own devices at Donsak Pier or your point of arrival on Koh Samui.
When booking, ask where the drop-off point in Koh Samui will be, will you be dropped at your new hotel? This may cost a little extra, but it will save the headache of trying to arrange transport when you arrive at Na Thon Pier.
Koh Samui Ferry tickets
There are a few options for ferry transfers when it comes to this leg of the trip.
The fastest option is the Lomprayah ferry. These high-speed ferries are passenger only and are the more expensive of the ferry options.
The boats operated by Seatran Discovery and Raja ferry companies are slower and ticket prices are cheaper. These ferries also take vehicles on board.
The Minivan journey
The beginnings of these minivan journeys can seem a little chaotic to the uninitiated – but relax, the driver knows where you are going, and you will get there.
Occasionally, the van which picks you up at your hotel may not be the vehicle in which you traverse the peninsula – they may pick people up from several hotels, and then transfer everyone to a different minivan for the rest of the journey.
The drive across to the other side will take a little under 3 hours.
When you reach the other coastline, you will find yourself two hundred kilometers to the north-east at Donsak Pier, in Surat Thani Province.
You just need to cross seventy kilometers of ocean, and you will be on Koh Samui. The door-to-door minivan service will also include the car-ferry.
If the ferry is very busy, take a photo of your minivan's number plate, so you ensure you get back to the correct one when you arrive at the pier in Samui.
Public Bus to Koh Samui
There is also a public bus service which runs between Krabi Town and Koh Samui. These are usually larger buses rather than minivans that depart from Krabi Bus Terminal and include the ferry ticket.
Some of the larger buses will also offer a pick-up from Ao Nang, the closest tourist area to Krabi Town.
The ticket price should be a little lower than the tourist minibuses, but be aware that once you arrive at the pier in Koh Samui, you will then need to arrange transportation to your hotel. This will probably involve haggling with a taxi or tuk-tuk driver, and unless you speak Thai, you may struggle to get the price down.
Private Taxi Services From Krabi to Koh Samui
If you are travelling in a group, or are less concerned about your budget, then there is also the option of a private transfer. These more spacious and luxurious vehicles will offer a more comfortable journey, but do come with a slightly higher price tag.
Private transfers give you the benefit of flexibility – you can leave at a time that suits you, just make sure your departure time also fits with the ferry schedule from Donsak Pier.
With your own driver, you can also choose to stop wherever and whenever you please. You will also be picked up from your hotel, so there is no need to make your own way to the bus station.
Different vehicles will be available to suit the size of your party. The drawback with the private transfer is that often they will only take you as far as Donsak Pier, make sure you ask when you are booking. If they only drop you at the ferry, you might like to arrange your transfer on arrival to your hotel before you travel. Most hotels will do this for you.
Krabi to Koh Samui Night Ferry
For the more intrepid, or those on a shoestring budget, there is also a night ferry to Koh Samui. The night ferry leaves from Surat Thani Night Boat Pier rather than from Donsak Pier, and arrives in Nathon, on the west coast of Koh Samui.
Although this is not the most luxurious option, it can be the cheapest way, as besides a cheaper ticket, you will also save money on a night's accommodation. Another benefit of the night ferry is that it also gives you more daylight for exploring Thai culture, rather than sitting on a bus in the midday heat.
The night ferries are for the most adventurous, they are basic wooden vessels, and you will sleep on the top deck.
For this night ferry, you can leave Krabi much later than with the other options, and you can travel to Surat Thani town by public bus or minivan too. The night ferry leaves at 11:00 pm and will arrive at Nathon pier at 5:30 am.
Flights from Krabi to Koh Samui
They have recently relaunched some direct flights between Krabi International Airport and Koh Samui Airport; the journey is under one hour and will cost about $100.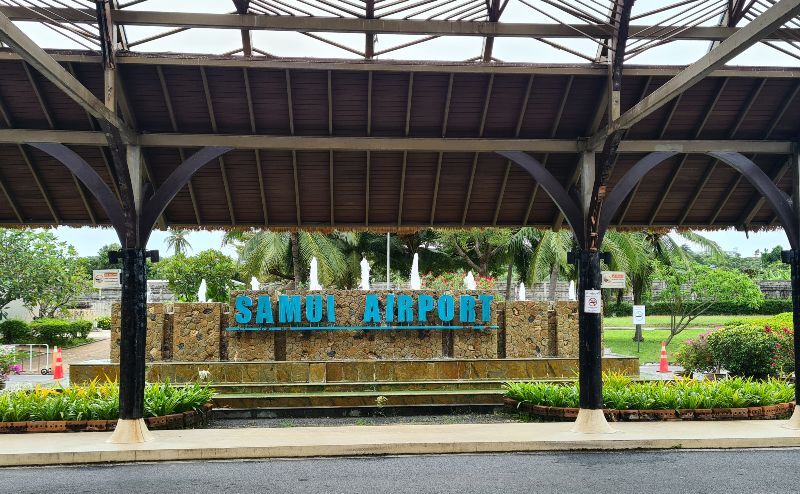 At 3 to 4 times the price of the van and ferry combo it you do need to factor in getting and from the airports and arriving at least 60 minutes before your flight departure so the whole trip could take up to 3 hours door to door.
Check the Bangkok Airways website, as they are the owners and sole operators of flights from Samui International Airport.
Getting to Krabi Town
If you are starting your journey from elsewhere in Krabi Province, the journey to Samui is still pretty straightforward.
From Phi Phi to Ko Samui
From Phi Phi, you will first need to get a ferry across to Krabi Town. The ferries run regularly every day, but ensure your ferry time syncs with your bus departure time from Krabi Town.
From Koh Lanta to Koh Samui
From Koh Lanta, you can easily get a transfer to Krabi Town via road and car-ferry. Travel time from Lanta to Krabi Town is around 90 minutes in total.
From Railay to Ko Samui
If you are on Railay, then you will need to jump in a long-tail boat to get back to Ao Nang or Krabi Town, before heading to the departure point for your vehicle to Samui.
While you can travel from these other Krabi locations to Samui in one day, some people prefer to travel into Krabi Town the day before to break the trip up a little. This is definitely a good idea if you plan on hitting the road early to reach Samui in time for a sunset gin & tonic.
Enjoy the Journey
So, while travelling coast-to-coast in Thailand is not the epic journey it can be in other countries, it's a great way to get out of the prime tourist locations and watch rural Thailand slide by the windows. Charge your devices, put some tunes on, and watch as Krabi's dramatic limestone karsts are slowly replaced by rubber and coconut plantations as you travel east. Enjoy the journey, but enjoy the destination more…
Find out how to get from Bangkok to Ko Chang
About the author: Richard (Rich) Reardon is a freelance writer and scuba diving instructor from England and now lives in Southern Thailand. "I have spent the last twenty years travelling and working throughout South East Asia. For around half of that time, I've been based in Thailand. Thailand stole my heart, and I hope my writing will encourage you to find out why!"